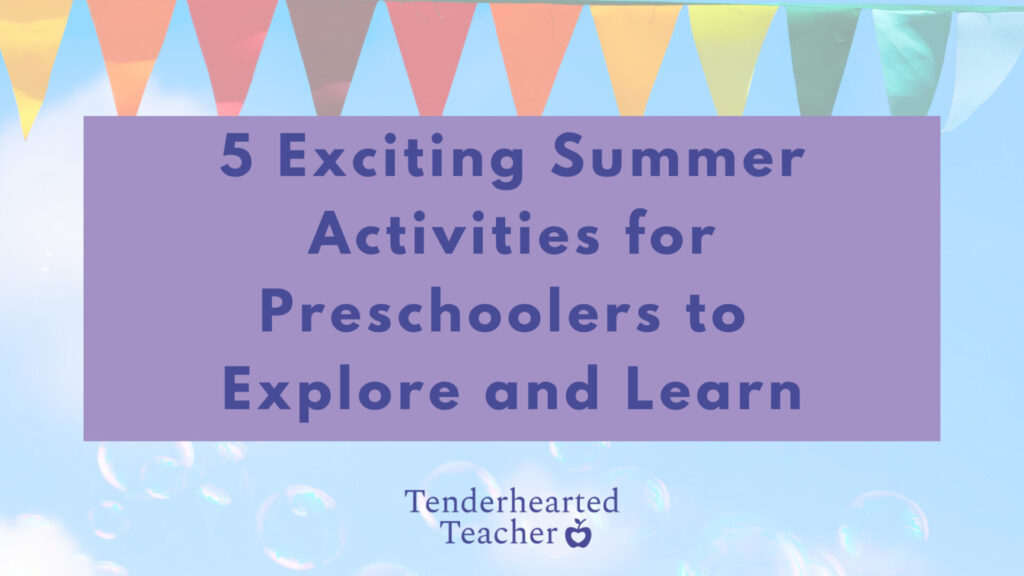 Summer is the perfect time to get outdoors to enjoy nature, sunshine, and warm weather. It's also a great time for little ones to engage in fun and educational activities that allow them to explore the world around them. In this blog post, I'll share five hand-ons summer activities for preschoolers to keep their minds and bodies busy this season. Also, don't forget to download your free copy of my summertime scavenger hunt set below!
Before we move on, please check out my blog post about the benefits of outdoor play as well as my post with five summer water safety tips.
Please note: This post may contain affiliate links. As an Amazon Associate, I earn from qualifying purchases. Therefore, if you buy something through these links I will receive a small commission at no extra cost to you. Thank you for your support.
My Favorite Summer Activities for Preschoolers
Parents and caregivers are often looking for ways to encourage academic growth over the summer. We already know the best way for preschoolers to learn is through play. So, here are my five favorite summertime activities that encourage learning and development:
1. Scavenger Hunts
According to Scholastic.com, "Not only can scavenger hunts be done just about anywhere, they also boost observation skills and help children develop early learning skills in a fun, relaxed, and natural way." This summer have your child explore the world around them by looking for different items in their environment–whether that's your home, background, neighborhood, or local beach. These games are a great way to learn new vocabulary as well.
Fill out the form below to receive a free copy of my summertime scavenger hunt set. It includes 3 different sheets: summer-theme, beach-theme, and summer clothing-theme.
2. Water Play
Water play is a classic summertime activity that both children and adults, alike, enjoy! Your child can explore exciting science concepts all while staying cool in the heat. Setting up for this type of play can be as simple as giving your child a large container or as elaborate as a water table. This Step2 Water table is very similar to the one we've been using at our house for the last few summers. We absolutely love it!
You can add simple cups, bowls, funnels, etc., to allow your child to practice their fine motor development by pouring and dumping. You can also introduce an easy science experiment to explore the concepts of sink vs. float. Visit my STEM blog post for a free printable to help you do this!
3. Outdoor Art
We already know just how beneficial art activities are for children. So, why not bring the art exploration outdoors? It's really simple to create an outdoor art station too. You can let your little ones create beautiful pictures with sidewalk chalk or you can provide large pieces of paper and washable paints. Don't forget to incorporate natural materials like flowers, leaves, sticks, etc., as well. These activities not only encourage fine motor skills, but they also enhance creativity and imagination.
4. Gardening
One of my favorite activities to do with my little one is to get outside in our garden. We plant and harvest our flowers, fruits, and vegetables together as a family. It not only teaches my child about the plant life cycle but it also helps to instill a sense of responsibility and accomplishment. It's certainly a great way to teach new vocabulary and science concepts too. So, I'd highly recommend doing this with your preschooler as well. You can also read more about the benefits of gardening with young children here.
5. Sensory Play
Sensory activities are extremely beneficial for child development. Not only do they enhance creativity, motor skills, body awareness, language development, and cognitive skills, but they also help children to make sense of the world around them. Additionally, sensory play can help a child to regulate their nervous system.
All play engages some of the senses in one way or another, but I do think it's important for parents to intentionally set aside time for their children to engage in play that stimulates multiple senses at one time. Outdoor sensory play is a great way to do this because it provides so many opportunities to discover new sounds, smells, and textures, etc. I suggest setting up some bins or trays filled with materials like leaves, acorns, twigs, sand, or soil. And don't forget to add small tools like shovels and tweezers to encourage fine-motor development as your child explores different textures, shapes, and sizes.
Get Outdoors for Some Summer Activities for Preschoolers
To wrap things up…summer is a wonderful time for preschoolers to engage in exciting and educational activities. By incorporating the activities above you're providing your child with fun and exciting ways to explore the world around them and develop important physical and cognitive skills. I hope you and your loved ones have a fun-filled season of discovery!
Now talk to me! What are your favorite summertime activities for your little ones? Share them in the comments below.
SAVE TO PINTEREST