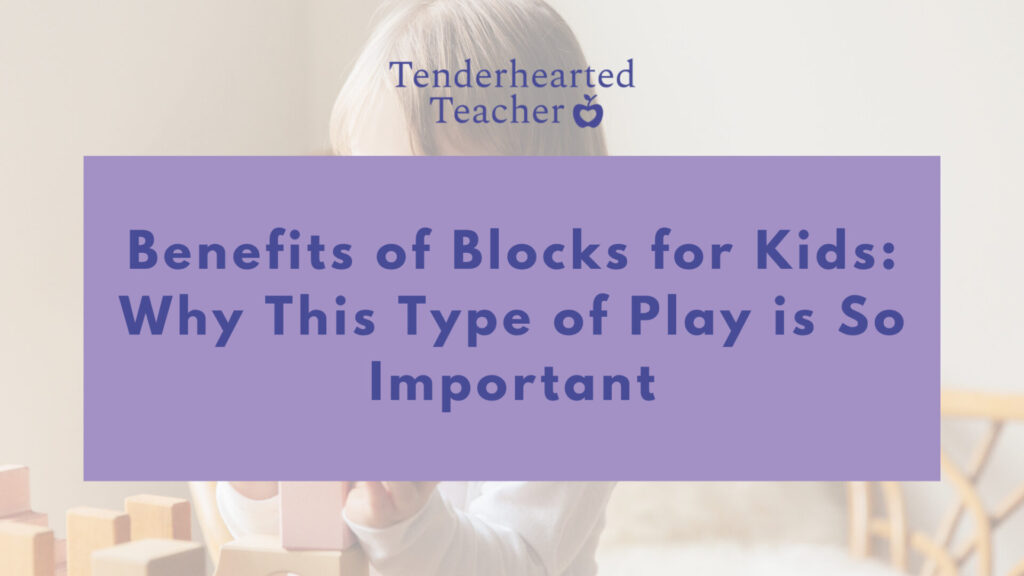 We've discussed the importance of play in early childhood before. But, today we're going to dive a bit deeper into a specific type of play that should be incorporated into every young child's day. Block play is one of the most essential activities in early childhood. It provides children with opportunities to develop math, science, literacy, motor, and social-emotional skills. Today, we'll review the benefits of blocks for kids, what happens in the 7 stages of block play, and how you can encourage this type of play at home.
Please note: This post may contain affiliate links. As an Amazon Associate, I earn from qualifying purchases. Therefore, if you buy something through these links I will receive a small commission at no extra cost to you. Thank you for your support.
What Are The Benefits of Blocks For Kids?
Here are some of the areas of development that are enhanced with block play:
1. Math Skills
A recent study published by Frontiers in Psychology states, "Play offers an unparalleled opportunity for young children to gain cognitive skills in informal settings. Block play in particular—including interactions with parents around block constructions—teaches children about intrinsic spatial features of objects (size, shape) and extrinsic spatial relations. In turn, early spatial cognition paves the way for later competencies in math and science."
Block play provides children with the opportunity to practice numerous math concepts like counting, patterning, spatial awareness, measurement, etc. Check out my post about early math with blocks to see multiple examples of how to teach math using blocks you have at home.
2. Cognitive Skills
Children have ample opportunity to think creatively, plan and execute designs, build frustration-tolerance and problem-solve while playing with blocks.
3. Social-Emotional and Language Skills
Communication skills are enhanced as children engage in meaningful social interactions and learn to work, play, and collaborate with others. Additionally, children build their vocabularies, i.e. prepositions a.k.a positional words, through block play.
4. Motor Skills
Building with blocks also improves motor development. For example, it can enhance fine motor skills and hand-eye coordination as they handle and manipulate these versatile objects.
What are the Stages of Block Play?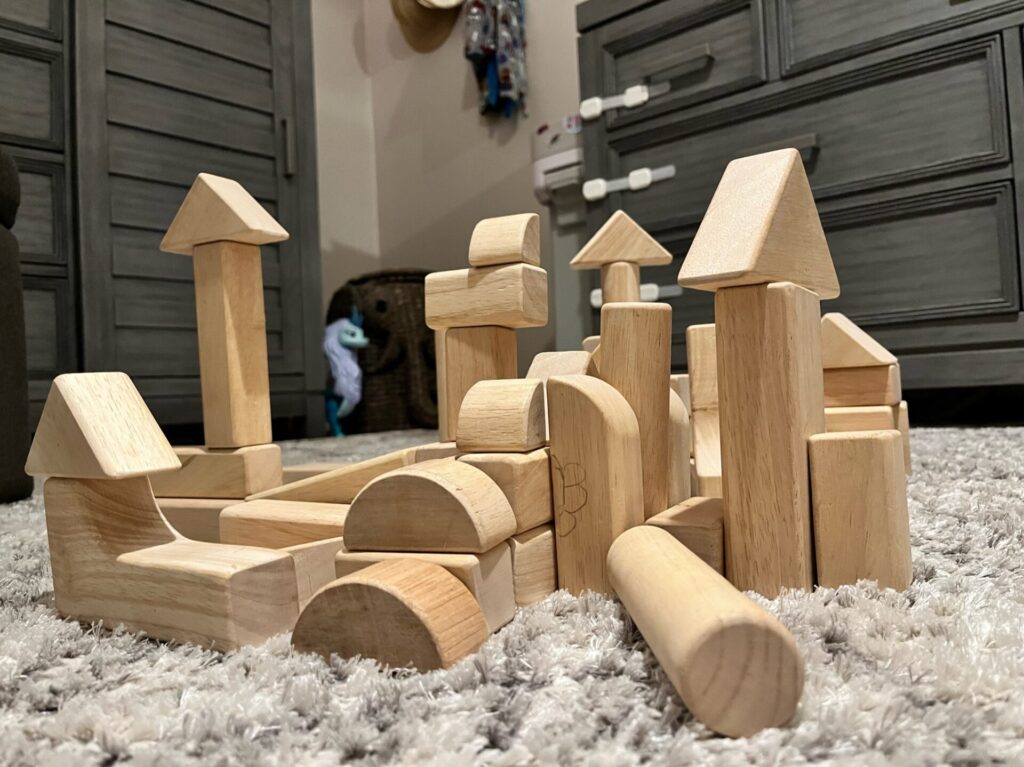 The Tufts Rise Project lists 7 stages of block play. Here's a summary of each stage. It should be noted that children move through these stages starting in infancy and generally reach the final stage at around 5 years old.
Stage 1: Discovery
This is when children explore blocks by carrying or touching them. This is considered the pre-building phase. Therefore, they are not using them for construction. An example of this may be an infant using their five senses to explore blocks, i.e. tapping them together to make sounds, rubbing them to feel the texture, etc.
Stage 2: Stacking
Toddlers begin to create simple rows and towers during this second phase. They will begin to stack blocks vertically or line them up horizontally. They will also repeat designs as they continue to practice these skills.
Stage 3: Bridges
This stage features more experimentation and requires more motor development. Children, generally between 3-4 years old, start to build bridges using several blocks. For example, they may place two blocks upright and then place one block across the top of the other two.
Stage 4: Enclosures
Once children are around 4 years old, they become more familiar with blocks and develop a better understanding of spatial relationships. This phase is when they start to explore the creation of enclosures. They use multiple blocks to create geometric enclosures like rectangles, circles, and ovals.
Stage 5: Patterns and Symmetry
As children's motor skills become more refined, they tend to get more creative. They use more blocks and are intentional about their choices to create symmetrical shapes and patterns. Their play becomes more imaginative and intricate. They may or may not name their structures at this time, i.e. "this is my school."
Stage 6: Early Representation
In this stage, children begin to build structures to represent familiar buildings and they may incorporate them into their dramatic play scenarios and use additional props. For example, they may plan out how to build a barn and then add their farm animal toys to it.
Stage 7: Later Representation
The final stage is much more elaborate and children build more complex and functional structures. They will incorporate design elements that represent actual details of structures they know from real-life, photographs, and books. They integrate their creations into imaginative play and they are more likely to name and describe what they've built.
What to do at home
Here are 3 simple tips for reaping the full benefits of blocks for kids. Plus I've shared some toy recommendations below (click photos for more info:)
Use a safe, spacious, flat surface for exploration, i.e. floor or a low table.
Offer times for both independent and joint play. When your child plays alone refrain from interfering and asking questions and, instead, observe how your child engages in the process. When you play with your child, you can offer assistance (when necessary) and ask occasional open-ended questions to facilitate learning such as "what will happen when we put this here?" "How can we solve this problem?"
Provide different styles of blocks (in various shapes, sizes, textures, and colors.) In addition, place other open-ended toys like farm animals, dolls, pretend food, and empty containers/boxes in your block area to extend play experiences.
Homemade Cardboard blocks
If buying a variety of blocks isn't in your budget, you can make cardboard blocks using materials you have in your own home. For example, you can use paper milk cartons (that have been thoroughly washed and dried out) or shoe boxes. For either option, you can tape down the tops and then wrap your blocks with newspaper, construction paper, or kraft paper. This can be a fun activity to do with your children. You can also have them decorate them using markers, crayons, or stickers.
Conclusion
Block play is a valuable and engaging activity that has many benefits for kids. It can help to promote children's development in many different ways.
Now talk to me! What are your favorite types of blocks? And how do you support this type of exploration at home?
SAVE TO PINTEREST