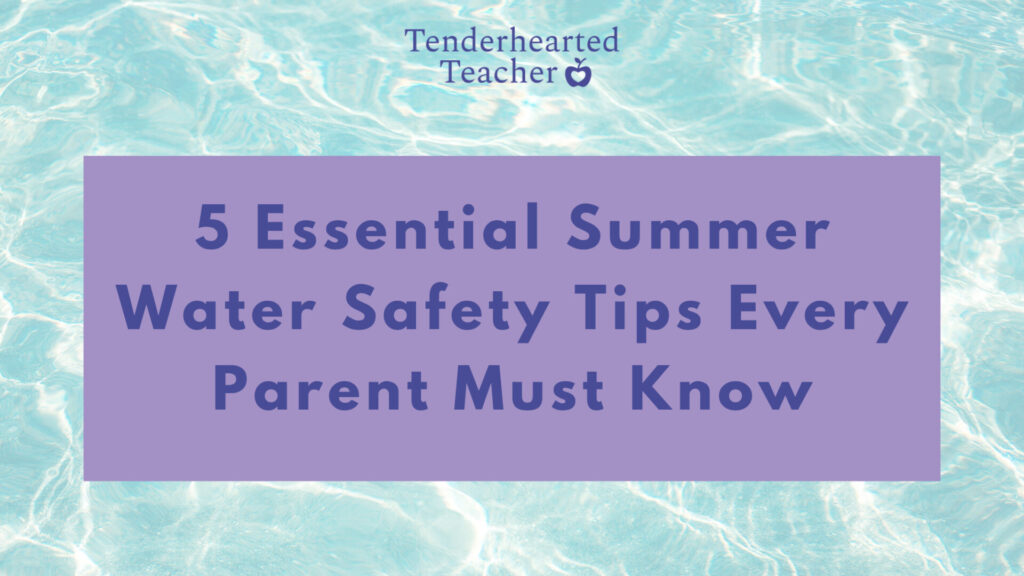 The summer season brings lots of opportunities for outdoor fun. But, it can also bring new safety concerns for parents–especially when it comes to playtime in the water. In fact, according to the Centers for Disease Control and Prevention (CDC), drowning is the leading cause of death for children ages 1-4 and there are over 8,000 ER visits every year due to non-fatal drowning incidents. I say this not to worry you, but instead to help share some information that can ensure your child's safety this summer. Today, we'll review 5 important summer water safety tips for preschoolers.
Tip 1: Never Leave Your Child Alone Near Water
This one may seem really obvious, but it's the most critical. Children should never be left alone near water. It's possible for them to drown in as little as an inch of water. So, not only is it incredibly important to watch them near the ocean or in a pool, but they shouldn't be left unattended when playing near small amounts of water either. This goes for shallow pools, water tables, and even buckets.
I worked as a lifeguard for several summers as a teenager and I can tell you that accidents can occur quickly when the adult is distracted. So, make sure your child is being watched at all times while playing in or near the water. If you're at a beach/lake or public pool, always swim near the lifeguards as well. Speaking of lifeguards, I recently read that bright, contrasting colors are best for swimsuits because they are easier for lifeguards to spot trouble!
Finally, a few years ago I saw a parent video shared on social media with a great tip. Unfortunately, I don't remember where I saw it to give them credit. But, it essentially goes like this: if you and another adult are with your child near water and you need to step away, make sure you verbally call out to the other adult and get their acknowledgement before doing so. For example, my husband and I use the phrase "your baby," in these moments. When I need him to supervise, I'll say, "your baby" and he'll reply, "my baby." This way we know that the child is always being watched by an adult.
Tip 2: Teach and Enforce Water Safety Rules With Your Child
Make sure to teach and model appropriate behavior in and around the water. For example, your child should be taught never to enter the water unless their adult is present. They should also be taught never to run near water to help prevent slips and falls. And finally, they should learn not to dive into shallow water and not to jump into the water near or on top of others.
Tip 3: Enroll Your Child in Swim Lessons
Take these basic rules a step further and enroll your child in swim lessons. Babies and toddlers can enroll in "parent & me classes" that allow for little ones to get comfortable with simple water exercises like blowing bubbles, kicking, and floating. As they get a bit older, usually around 4 years old or so, classes can be used to teach more advanced techniques. This is because children are a bit more mature physically, cognitively, and emotionally.
Healthychildren.org, states that "recent studies suggest that water survival skills training and swim lessons can help reduce drowning risk for children between ages 1-4. Classes that include both parents and their children also are a good way to introduce good water safety habits and start building swim readiness skills."
Swim lessons alone cannot ensure your child's safety, but they can certainly help. Lessons can instill a sense of comfort and confidence in the water as well as equip parents and children with the knowledge and skills to keep them safe.
Tip 4: Learn CPR and Take Water Safety Courses
Parents and caregivers should also continue their own learning in order to keep their loved ones safe. CPR courses are critical in helping teach adults what to do in case of an emergency such as a drowning or near drowning incident.
Many hospitals even offer free or low-cost classes, so contact facilities in your community to inquire about them. You can also search for classes near you on the American Red Cross website.
In addition to taking an official CPR class, I'd also recommend taking a water safety class to provide worthwhile insight as well. The American Red Cross offers a free online course for parents and caregivers here.
Tip 5: Secure Your Pool and Invest in Safety Equipment
If you have a pool in your backyard, making sure that the area around it is secure is essential! This means installing a fence or barrier, with a child-safety lock, to help keep your child from entering the area alone. Be sure to check in with your town or state to determine specific safety codes such as the appropriate height for the fence and distance from the water. Other safety items to consider are pool alarms or pool covers.
It's also important to remember to avoid leaving objects near the fence/barrier that children can climb such as tables and chairs. Additionally, never leave toys or floats in the pool as children may attempt to enter the area alone to go get them.
If you don't have a large pool, but you have a small wading pool or water table instead, please make sure to empty them when they are not in use. This way children don't have the opportunity to fall in if an adult isn't present.
5 Summer Water Safety Tips Conclusion
I hope these safety tips give you peace of mind for keeping your family safe in the water this summer. Please remember that the key to water safety is being prepared, proactive, and aware of your surroundings.
Here are a few additional tips to keep in mind for safe outdoor play during the summer months!
Always wear sunscreen and reapply after extended water play.
Wear brightly-colored bathing suits so the lifeguards can see you and your family members under water. In addition, wear protective clothing such as hats and sunglasses to prevent sunburns and eye damage.
Drink water to stay hydrated and take frequent water breaks–particularly on very hot days.
Keep in mind that the sun is the strongest from 10:00 a.m. to 2:00 p.m. So, it's best to avoid full sun during peak hours. If you can't do that, cool off in shaded areas.
I wish you a happy and healthy summer season full of fun, play, and plenty of sunshine!
Now talk to me! Do you have any other summer water safety tips you'd add to this list? If so, please leave a comment below to share with our readers.
SAVE TO PINTEREST