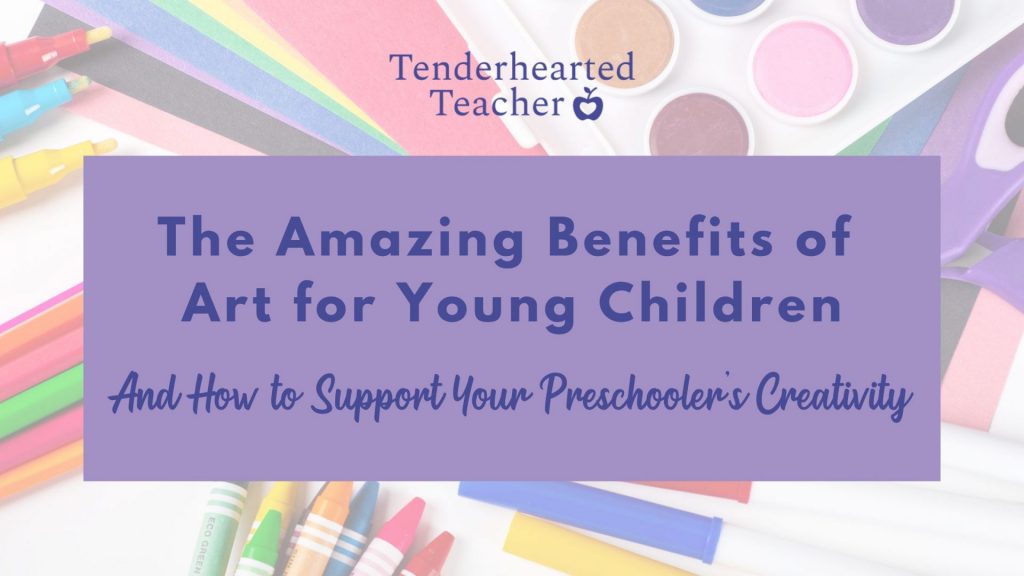 Please note:  This post contains affiliate links. As an Amazon Associate, I earn from qualifying purchases. Therefore, if you buy something through these links I will receive a small commission at no extra cost to you. Thank you for your support.
Art exploration has many benefits in early childhood. Not only is it a fun expression of creativity, but it is also an effective way to promote physical, academic, social-emotional, and cognitive development. Today, I'm going to share 4 incredible benefits of art for preschoolers as well as several tips for encouraging creativity at home with your little one!
Product Art vs. Process Art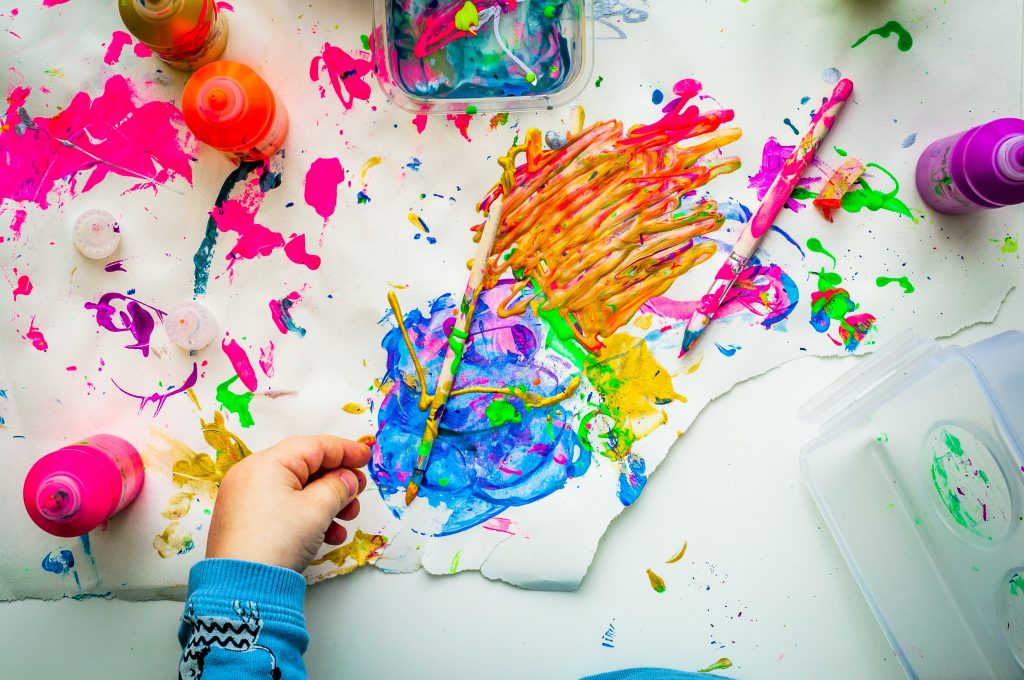 Before we dive in, I first want to discuss product art versus process art. These two different types of art aren't exactly equal in terms of their benefits. Therefore, it's important to know the difference between the two and which is best for your preschooler.
According to the National Association for the Education of Young Children (NAEYC), "Product art offers children a few learning opportunities (following directions and developing small motor control) but does not offer the rich opportunities for cognitive, language, and social and emotional development open-ended art experiences offer."
So how do you spot the differences?
NAEYC goes on to explain that product art is generally easy to identify. It's often referred to as "cookie-cutter" art because children follow a sample, template, pattern, or directions–provided by an adult–in order to create it. This means the final product would look more or less the same if you had two different children following the same directions and using the same materials.
Process art, on the other hand, is open-ended and child-led. It's completely original and children are free to use a variety of materials and supplies. This type of art cultivates choice and creativity. Children are generally more relaxed and engaged in this process because they aren't afraid they'll get it wrong.
Should You Avoid Product Art Altogether?
Does this mean you need to steer clear of all product art? No, but you want to make sure that it is not the only type of art you're doing with your little one. There is a place for both types in the home and in the classroom. Art in all of its forms can be beneficial for our children. It's about providing variety and allowing children the freedom of expression and exploration.
Barbara Ann Elson, BA, MA Fine Arts Education, now retired, has 40 years of experience as an elementary school art teacher and supervisor for Fort Lee Public Schools. She states "A simple art project can be guided, skill based, and creative at the same time." Additionally, she states, "What is important to understand (always) is that the "media is the message" through which a child perceives the world around them. Adaptive and assistive learning tools such as templates etc. and end products have a place in developing manipulative skills as well as the purely sensory and tactile ones."
In my special education preschool classroom, my students have experiences with both types of art. For example, adult-led product art is typically used to teach students how to follow multi-step directions as well as how to handle art tools safely. As for process art, the children engage in this when they visit our classroom art area during free-choice center time. During these periods, teachers observe the children and assist if/when necessary. However, the children are free to select their own art materials and make open-ended projects of their choice.
4 Benefits of Art for Preschoolers
Now that we know more about these differences, let us look further into the benefits of art for preschoolers:
1. Encourages Physical Development
Fine motor skills are strengthened as children manipulate small objects or materials like play-dough or clay as well as when they handle utensils like markers, paintbrushes, crayons, and scissors. This type of physical development (that enhances the small muscles in the hands) is critical for future writing abilities as well as independence skills like eating, dressing, and toileting. Gross motor skills are also developed as children create larger scale projects like murals or sculptures. Painting on vertical surfaces such as easels can also help children cross the midline (develop bilateral coordination.) Healthline.com states, "Crossing the midline means using both sides of the body, and that takes extra processing time. By engaging your child in activities that encourage crossing the midline, you may also be helping to train their brain."
2. Enhances Academic Skills
With that said, art activities can strengthen the brain in many ways! Think about it like this…in just one art project a child can practice several early academic skills simultaneously. For instance, while a child is making a collage, they are learning about math concepts like size and shape. At the same time, they are developing literacy and language skills by using new vocabulary words such as texture and dimension. Children can also explore science concepts like changes in matter when they mix paint colors together to create new ones.
3. Develop Cognitive Skills
Additionally, art develops the brain's cognitive and executive functioning skills. For example, children learn to plan, problem-solve, and then follow through with those plans as they create and complete their designs.
4. Cultivates Social-Emotional Development
Children who are free to engage with their art materials, in an open-ended manner, usually feel calm and focused. Art also promotes mindfulness as children learn to experience the present moment. Additionally, art exploration is a safe and effective way to express ideas, feelings, and emotions. That is why art therapy is so often used to help children cope with traumatic events.
3 Tips for Art Exploration at Home
1. Supply a Space for Art Exploration With a Variety of Materials:
Set up an area of your home, with numerous art materials, where your child can freely create. It's best to use non-toxic supplies like markers, crayons, paint, and glue. Additionally, items should be age-appropriate, i.e. child-safe scissors. Art materials don't need to be fancy either! Your child can explore and create with items that you already have at home like Q-tips, tissue paper, cardboard, tinfoil, cotton, recycled paper, etc. Furthermore, you don't need to put everything all out at once. That can be overwhelming for your child (and for you!) Therefore, I'd suggest putting materials in easily accessible containers on a shelf or in a drawer. That way your child can pull what they need on their own when they want it. This set-up also make for easier clean-up.
Here are some of my favorite art supplies and materials:
2. Encourage Creativity and Open-Ended Exploration:
Parents and caregivers should note that for creativity to blossom, a child must be free to explore. So if they've decided to use a template, they should allow their child to put their personal touches on it to make it their own. If a child is engaged in process art, parents/caregivers should refrain from asking questions such as "what is this?" or "what did you make?" which could stop their child's creative juices from flowing. Instead, they should ask questions about the process itself like "can you tell me more about the colors you used here?" or "I noticed you chose string instead of pipe cleaners, can you tell me why?" This type of questioning leads to more creativity and open-ended discussion as well as encourages the child to think about the reasons behind their choices.
3. Display Their Work in Your Home:
Showcase your child's creations around your home. You can use frames, clothespins, or even magnets to hang up your child's work. These options allow for you to easily rotate and change artwork occasionally as well. The act of displaying their work helps to build your child's self-esteem. It also lets them know that you support and encourage their growth and exploration. Additionally, displaying their work can also provide a way to reflect and observe how their skills, ideas, and preferences develop over time. As an aside, I suggest hanging artwork at your child's eye-level so that they can easily refer back to it.
Here are some ideas for art display and storage:
Now talk to me! Did you know about these benefits of art for preschoolers? What art materials does your little one like to explore in your home? Comment below!
This post was featured by Twinkl in their Creativity in Children blog.'
About the Source: Barbara Ann Elson, BA, MA Fine Arts Education, now retired, has 40 years of experience as an elementary school art teacher and supervisor for Fort Lee Public Schools (NJ.) She is married and has two daughters–both of whom are teachers, art and special education, respectively. She notes her three grandchildren, ages 6, 4, and 2-months-old, have afforded her with a continuing perspective on creativity, family, and education.
SAVE TO PINTEREST