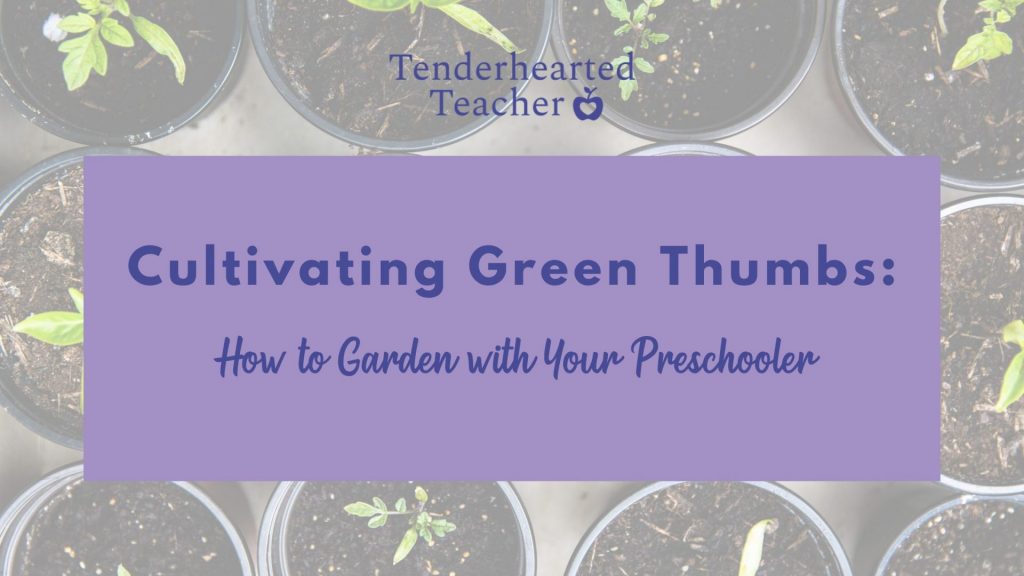 Please note:  This post contains affiliate links. As an Amazon Associate, I earn from qualifying purchases. Therefore, if you buy something through these links I will receive a small commission at no extra cost to you. Thank you for your support.
Every year my husband and I plant a small vegetable garden in our backyard. This year we've involved our toddler in the process. It's been a fun learning experience for all of us in many ways. That's why I decided to write this post. I wanted to let others know all about gardening with preschoolers. Here you'll learn about the benefits and find tips and resources for getting started with your child.
Why Garden with Kids?
Recently, I released a blog post about the importance of outdoor play for our kiddos. In it, I stated, "Outdoor play is great for our little ones because it helps them develop social-emotional, physical, and cognitive skills. It also helps them to build confidence, learn about their world, and explore their environment."
So, what better way to reap the benefits of outdoor experiences than toiling in the garden?
(Click here to read that full article, by the way.)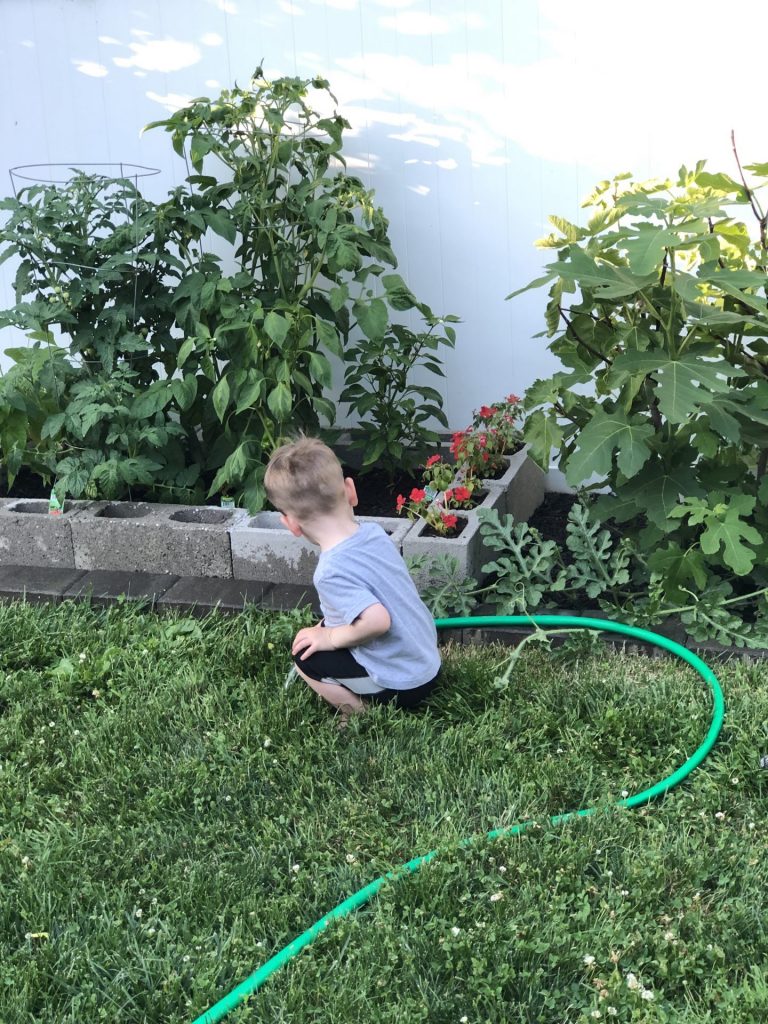 What Are the Benefits of Gardening with Preschoolers?
According to KidsGardening.org, "Gardening improves kids' lives, their communities, and the planet. Gardening engages every child's innate wonder and care for the natural world, offers them opportunities to participate in hands-on learning, and teaches them where their food comes from."
Here are some other ways children benefit from gardening:
Enhanced Cognition and Academic Skills
Through gardening, children learn all about the variables that go into the plant life cycle and where our food comes from as well as participate in the scientific process. They also get hands-on experience with successfully growing food which is no easy feat! This type of learning experience gives children the opportunity to use new vocabulary, practice STEM concepts, plan, and problem-solve. Furthermore, gardening helps children to develop patience, responsibility, and confidence as they can track their garden's growth, observe progress over time, and gain a sense of accomplishment.
Healthier Eating Habits
Several studies have shown that children are more likely to eat food they've grown on their own. They also demonstrate healthier snacking preferences. In fact, a 2015 study done by researchers at Cornell University and Ohio State University found children were 5 times more likely to eat salad if they had grown it themselves.
Improved Physical Development and Well-being
All of the pulling, digging, raking, lifting, and planting help to improve our children's gross and fine motor abilities. According to the CDC, gardening can provide moderate daily exercise to both children and adults alike. Additionally, research has shown that gardening can improve overall well-being, reduce stress, and positively impact mood and memory as well.
Tips and Ideas for Your Garden
Start small: You can designate a specific area or certain containers for your child to tend to if you're overwhelmed with the idea of your backyard being taken over. Compare the Market shares some alternative ideas to backyard gardening spaces like balconies, porches, and windowsills.
Let go of perfection: Be okay with knowing that no garden or planting season will be perfect. Find joy in working together with your child to create something new!
Take a trip: Visit your local farmer's market or plant nursery. There you can browse and learn about various types of plants and produce. In addition, you can ask the employees about what plants thrive in your neighborhood.
Share the Wealth: Make your garden safe for special guests. Try growing wildlife-friendly plants to attract vital pollinators like bees, birds, and butterflies. This will help children learn about the importance of these species to our overall environment and ecosystem.
Get Creative: Let your child add their personal touch. They can decorate the space with stepping stones, planter boxes, wind chimes, and birdhouses, for example. If you don't have access to your own outdoor space, consider bringing the garden inside with an indoor herb garden like this one. Or you can check out how to participate in your local community garden. Visit Communitygarden.org to find one near you!
Resources for Gardening with Preschoolers
Kids' Gardening Tools and Crafts
First, here are some product recommendations that can help you and your little one enjoy your outdoor oasis together. They will absolutely love to use this kid-sized gardening set that includes all the tools and protective gear they'll need. Additionally, they can practice their fine motor skills and enhance their creativity with these gardening crafts. For example, they can paint their own decorative stepping stones and a functional birdhouse.
Books About Gardening
Next, I've shared some of my favorite books on the topic that I read at home and in my classroom. These three books feature beautiful illustrations and stories that share the joy of gardening.
Simple Songs About Plants and Gardening
Lastly, you and your child will enjoy these catchy tunes that introduce important gardening concepts. They will have you whistling while you work!
In conclusion, gardening is a great activity for kids. Not only are they having fun while they learn about nature, but they are also improving their overall well-being!
So, get those shovels ready and start sowing the seeds to grow a life-long love of this healthy and peaceful pastime.
Now talk to me! Do you garden with your child? If so, what has your favorite planting experience been together so far? Share your comments below.
SAVE TO PINTEREST