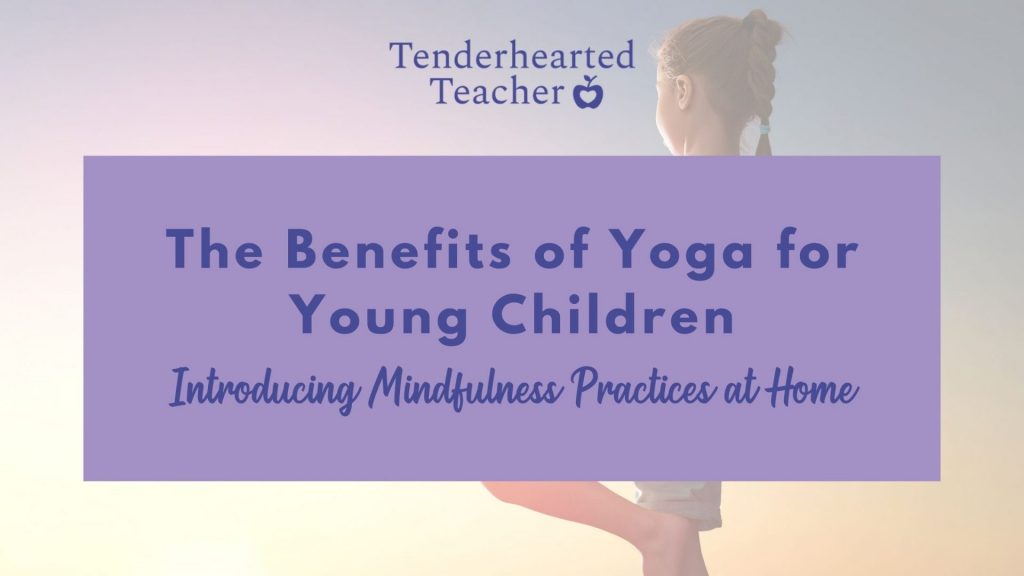 Please note:  This post contains affiliate links. As an Amazon Associate, I earn from qualifying purchases. Therefore, if you buy something through these links I will receive a small commission at no extra cost to you. Thank you for your support.
Believe it or not, I wrote my graduate thesis on the impact of yoga and other mediative strategies on the development of self-regulatory skills of special needs preschoolers. At that time, I wanted to find out whether or not mindful practices would help reduce unwanted behaviors in my classroom. I was knee-deep in research on the benefits of yoga for preschool students for months on end. After an extensive literature review, I implemented a 5-week study and infused mindful breathing, simple yoga sequences, and even aromatherapy into my classroom environment.
I witnessed, first-hand, the positive impact mindfulness can have on young children. Not only did it improve overall classroom management. But, more importantly, my students had a better awareness and understanding of their feelings and emotions and the feelings of others. In turn, it improved their pro-social behaviors and their relationships with peers and adults in and out of the classroom.
With that said, I wanted to write this post to share what I learned with you. Additionally, I'll provide some resources on how to easily incorporate yoga and mindfulness into your little one's routine.
Yoga's Origin and Benefits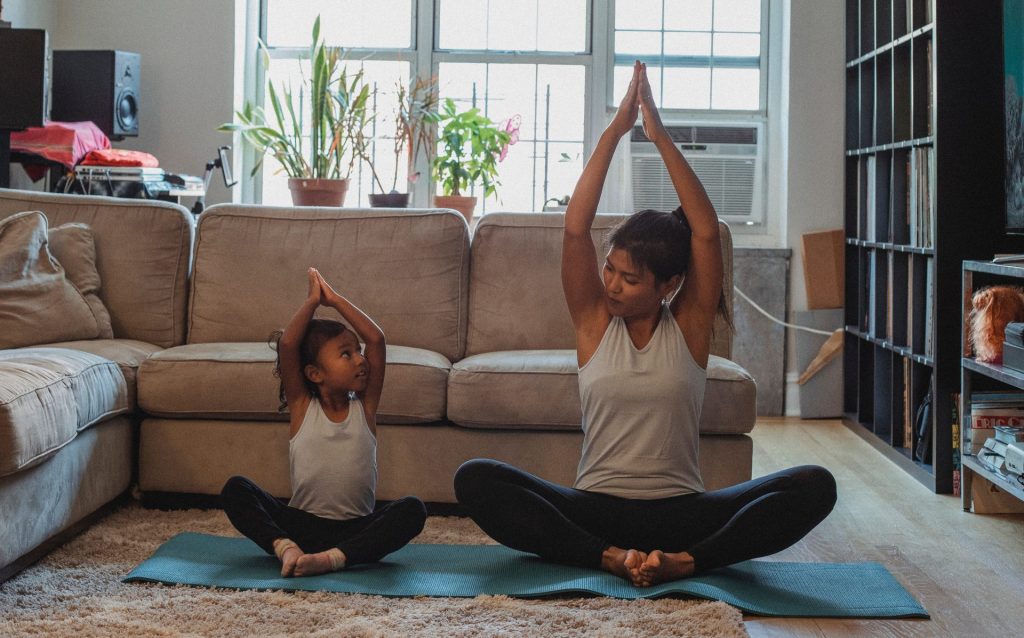 According to the University of Washington, yoga is believed to have originated over 5,000 years ago in India. At its start, yoga was a spiritual and religious-based practice that focused on connecting mind and body. The Westernized yoga that we know today is very different from its ancient predecessor. However, yoga has always had many benefits regardless of its form.
A recent article from, Healthline.com states, "While modern media and advertising may have us think that yoga is all about physical poses, the entirety of yoga includes a wide range of contemplative and self-disciplinary practices, such as meditation, chanting, mantra, prayer, breath work, ritual, and even selfless action." The article also touts 16 benefits of yoga that are backed by science. These benefits include physical ones like improved strength, flexibility, balance, and posture, etc. They also include mental benefits like anxiety and stress relief, improved mental health and brain function, and enhanced self-esteem and awareness. But, yoga and its benefits aren't only for adults.
In fact, in recent years, school districts have begun to take note of these benefits and are infusing yoga and mindfulness strategies into classroom settings. There's even evidence that children with special needs like Autism Spectrum Disorder, ADHD, and other developmental delays benefit from these types of initiatives.
"Research with adults suggests that contemplative practices such as meditation and yoga impart a variety of benefits, from improved attention to reduced stress. Increasingly, these practices are being adapted for use with children and introduced into childhood education in order to foster the development of key self-regulation skills required for academic achievement and emotional well-being." (p. 1).

Shapiro et al. (2015)
How I Incorporated Yoga and Mindfulness in My Classroom
Truthfully, I am a yoga novice. I'm not an expert by any means. But, throughout my research, I quickly learned that my inexperience shouldn't prevent me from introducing my students to this beneficial practice. Yoga can be adapted for all types of skill level (my own and my students.) Therefore, I am still able to easily lead my preschool students in simple daily yoga sequences and mindful breathing activities. In fact, after the success of my graduate research project, I made it a point to incorporate meditative practices into my classroom every school year.
For example, I make them a part of my weekly lesson planning as I align them with our units of study. Let's say we're learning about Autumn. I create a yoga sequence using poses that can relate to our content (tree= tree pose, leaf= warrior pose, autumn breeze= windmill pose, etc.)
In addition, we incorporate various mindful breathing practices into our daily routine with the help of videos on YouTube and GoNoodle. Finally, we have a calming corner in the classroom that students can visit to decompress when they are feeling frustrated, angry, anxious, etc. The cozy corner has soft pillows and toys, as well as a sensory board that features different textures for tactile input. During my research study I also purchased small organza cinch bags to hold cotton-balls soaked in various essential oils, i.e. lavender, chamomile, vanilla, and mandarin. The bags were attached to yarn necklaces. If/when students were experiencing stressful emotions, they were instructed that they could enter the aromatherapy area, pick a bag with their preferred scent, and wear it while they practiced their meditative breathing exercise.
My 5 Recommendations for Yoga For Preschool
The classroom strategies I use each year are easy for caregivers to implement at home as well. Introducing yoga doesn't have to be complicated. I suggest starting with breathing exercises and simple poses. Here are 5 other tips to consider when starting to introduce yoga and mindfulness practices at home with your little one.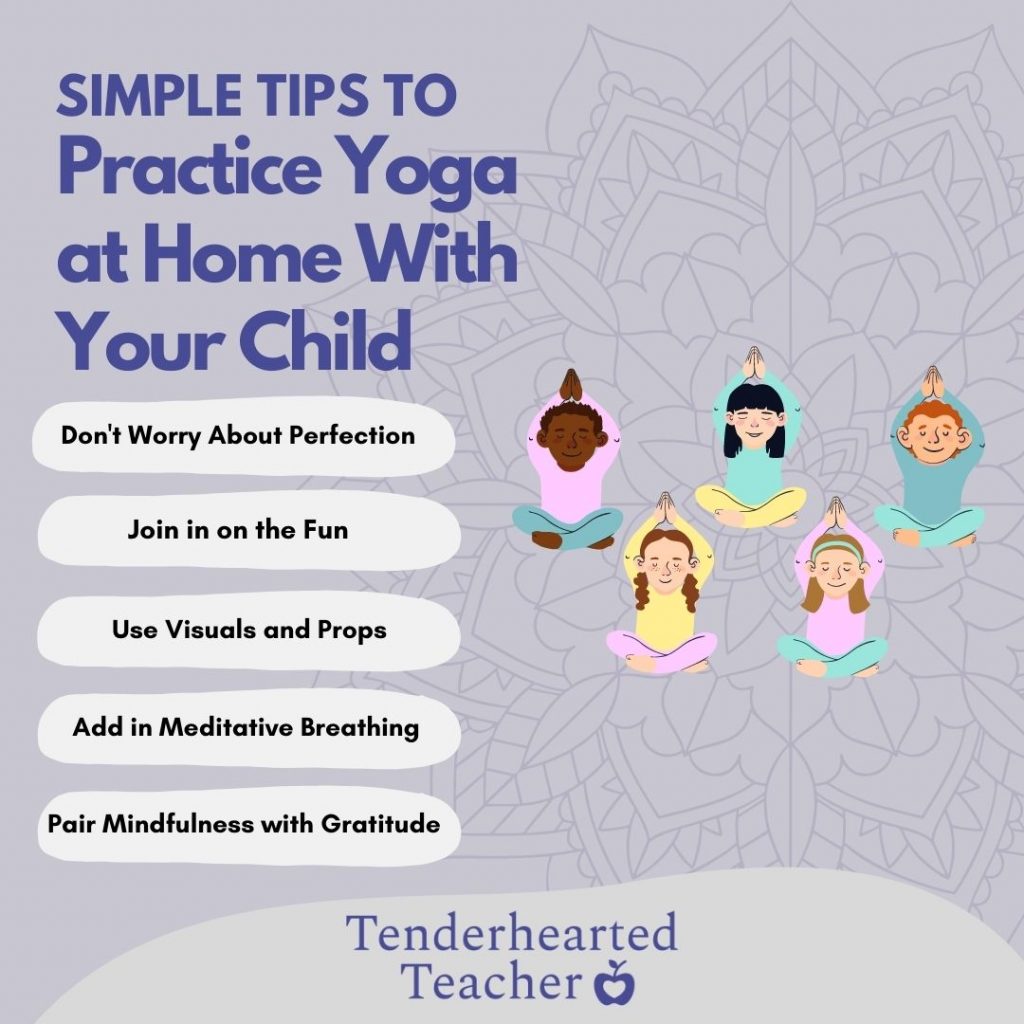 1. Don't worry about perfection
Poses do not have to be perfect–especially for young children. Pick age and developmentally appropriate poses. Model the correct positioning so they know what the poses should look like. Then let them try their best to copy you. Praise your child for their effort rather than their execution.
2. Join in
That leads me to my next point. Don't just watch your child from the sidelines. Children love to copy what the adults do. So do the poses and breath work with your child. This way you can share memorable bonding moments as well as soak in yoga's proven benefits.
3. Use props and visuals
With young children, it's always wise to use visual aids or props to help keep your little ones entertained. Here are some items I like to incorporate into my mindfulness activities. For example, this expansion ball is great for meditative breathing. The Yoga Tots series of books are a wonderful way to incorporate literacy into yoga practice. This toy bin can provide sensory input for your child as they try to decompress as well.
I'd also love for you to check out my interactive workbook which is an introduction to yoga and mindfulness for young children. It's called Mindful & Wonderful Me: A Wellness Activity Book for Kids. It features:
Yoga poses (with instructions!)
Mindful mazes and coloring pages
Emotions exploration
Five senses awareness
And more
4. Add in Some Meditative Breathing
Make sure to incorporate deep breathing when you hold each pose. I like to do a simple 3-count deep breath. Count to 3 as you breathe in through your nose. Hold the breath for another 3 seconds. Then slowly breathe out through your mouth for a final 3-count. It's also a good idea to start and end your yoga sequences with breathing exercises too. There are great kid-friendly videos available online for this. These are a few of my classroom favorites:
5. Pair Mindfulness with Gratitude
As stated earlier, yoga isn't only about physical exercise. It's about being mindful and contemplative too. One of my favorite ways to practice and develop self-awareness and reflection is with a gratitude journal. I recently wrote about the benefits of gratitude on a person's overall well-being. You can read it here: Simple Ways to Teach Your Preschooler About Gratitude. Additionally, I created a gratitude journal specifically designed for young children. You can read more about it in my shop or you can click the button below to purchase.
Now talk to me!
Do you and your preschooler do yoga together at home? If so, share some of your tips and tricks in the comments below. If not, is this something you see yourself doing in the future?
Check Out More Related Content
References: 

Shapiro, S. L., Lyons, K. E., Miller, R. C., Butler, B., Vieten, C., & Zelazo, P. D. (2015). Contemplation in the classroom: A new direction for improving childhood education. Educational Psychology Review, 27(1), 1-30. doi:http://dx.doi.org/10.1007/s10648-014-9265-3
SAVE TO PINTEREST