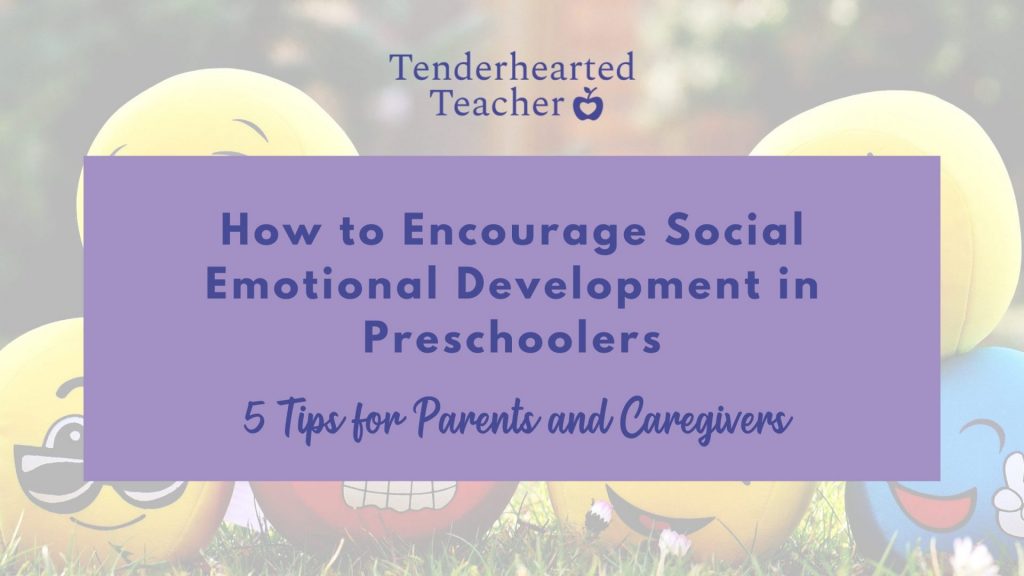 Please note:  This post contains affiliate links. As an Amazon Associate, I earn from qualifying purchases. Therefore, if you buy something through these links I will receive a small commission at no extra cost to you. Thank you for your support.
Social-emotional learning (SEL) is a hot topic in education nowadays. And it should be! I recently wrote about why social-emotional learning matters in early childhood. But, to quickly recap, research shows children with high emotional intelligence tend to do better in school, relationships, and life and these benefits follow them into adulthood. So how do we help our little ones gain this type of knowledge? This post will discuss what social-emotional development in preschoolers looks like and how to encourage these skills at home!
Why Do We Want Our Kids To Develop SEL Skills?
According to the Head Start: Early Childhood Learning & Knowledge Center, "children who have a strong foundation in emotional literacy tolerate frustration better, get into fewer fights, and engage in less self-destructive behavior than children who do not have a strong foundation. These children are also healthier, less lonely, less impulsive, more focused, and they have greater academic achievement."
Additionally, SEL helps children to develop social awareness and empathy, healthy relationships, self-awareness and self-regulation, effective stress management strategies, and problem-solving and decision-making skills.
What Does Social Emotional Development Look Like in Preschoolers?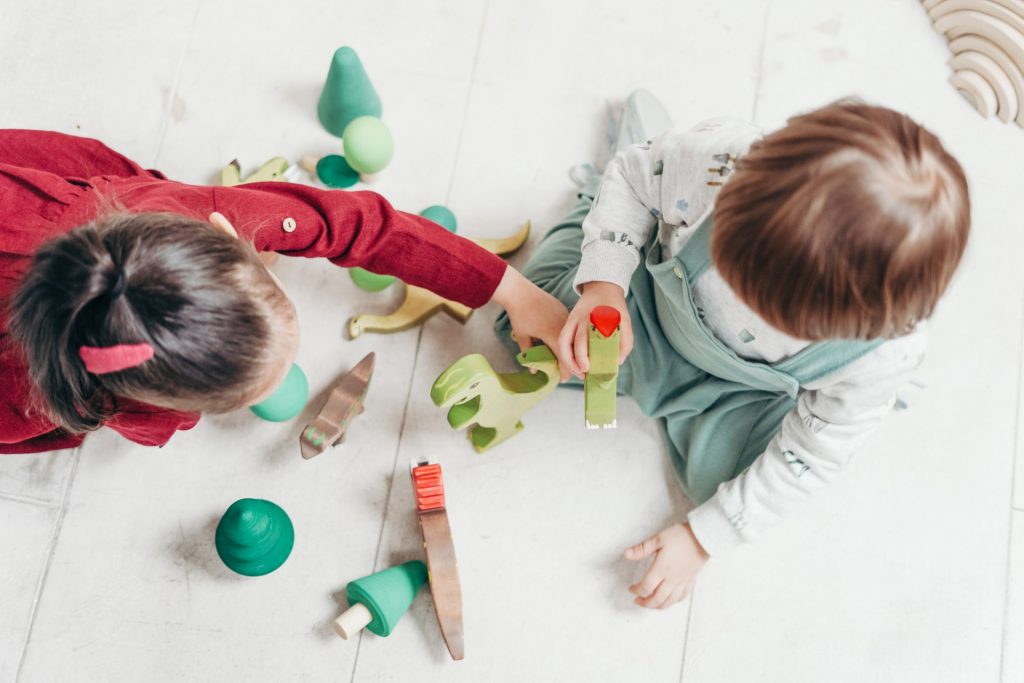 Psychology Today defines emotional intelligence as, "the ability to identify and manage one's own emotions, as well as the emotions of others." Additionally it is, "generally said to include a few skills: namely emotional awareness, or the ability to identify and name one's own emotions; the ability to harness those emotions and apply them to tasks like thinking and problem solving; and the ability to manage emotions, which includes both regulating one's own emotions when necessary and helping others to do the same."
Furthermore, a Harvard researcher recently stated that emotional intelligence includes four main competencies: self-awareness, self-management, social awareness, and relationship management. The Collaborative for Academic, Social, and Emotional Learning (CASEL) agrees and adds an additional competency for responsible decision-making.
Obviously, young children are just starting to get a handle on these skills based on their age and development. But, I would define a preschooler with strong emotional intelligence as one who generally gets along well with their classmates and peers, can identify and manage their feelings, shows care and concern for others, can clearly express their needs and wants, and can effectively join in collaborative activities in the classroom.
So How Do We Encourage Social Emotional Development in Preschoolers?
It's important to note that social-emotional learning doesn't just happen naturally! We don't expect our children to innately know math and literacy concepts, right? The same goes for emotional intelligence. Therefore, parents and caregivers need to actively teach these skills. Here are a five simple ways to do just that!
Tips for Encouraging Social Emotional Development in Preschoolers
1. Label those feelings & teach coping strategies:
A parent or caregiver's main goals should be to help their child identify and name feelings, normalize them, as well as teach healthy ways to manage their emotions and self-regulate. When your child is feeling a big emotion, use the play-by-play technique to narrate and name their feelings. "You are really frustrated that your tower keeps falling down. It can be hard when you want something to work and it doesn't." Then suggest a self-regulation strategy. "Would you like to take a break from this and try again in a few minutes?"
Additionally, you should model what you'd like to see in your child. Let your child see how you handle big emotions too (even if you mess up and lose your cool.) We can use all of these life experiences as teachable moments. "I was feeling angry about that mess earlier and I yelled. I'm sorry if my voice scared you. Next time, I will take 5 deep breaths to help me stay calm."
Don't forget to name pleasant emotions too. It's critical for children to understand that emotions are diverse and that our feelings include things that make us feel good and also not so good. For example, "you feel really happy and excited that your team won the game. Why don't we all high-five?"
2. Create a welcoming environment:
Children need to feel safe and loved no matter what they are feeling. It's the responsibility of the parents and caregivers to let them know that all emotions are valid, that they can change from moment to moment, and that they are loved even when their emotions seem overwhelming. Providing children with an outlet to express themselves without judgment will help establish a healthy bond. Think about it this way. If you always lash out at your child when they are angry or dismiss them when they feel scared or worried, do you think they will come to you when they need help in the future? Creating a stable connection helps to maintain a secure attachment throughout their entire life.
Another step to achieving a welcoming environment is to create a physical space in your home where your child can decompress. This might look like a cozy area of their bedroom or playroom with soft fabrics, pillows, and sensory toys. In fact, every year I incorporate one of these areas in my classroom. We call it the "cozy corner."
3. Use books to lead meaningful discussions about feelings:
Books are extremely powerful tools for all sorts of learning. They are especially good at building up emotional intelligence. They do an excellent job at opening children up to new ideas and perspectives– particularly when they are exposed to books with diverse characters and backgrounds. This allows your child to learn about experiences that are different than their own.
In addition, research shows that children are more likely to show kind and empathetic behavior when parents/caregivers ask meaningful questions during story time that cause them to reflect. For example, "how did that make the character feel?", "what made them feel this way?", "how would you feel in this situation?", and "what can their friends do to help?" (Side note: you can also use this technique when watching television together.)
Here are a few of my favorite preschool books specifically about feelings.
4. Use Games, Activities and Props
Encouraging children to develop emotional vocabulary, self-awareness, self-regulation, and empathy doesn't have to be a chore. In fact, it can be fun when you incorporate games, activities, and props. For example, you and your child can use an emotions check-in chart, role-play with dolls or puppets, play memory match with emotions flashcards, and keep a reflection journal, etc. Simple board games and team activities can also teach important interpersonal skills like sharing, collaboration, problem-solving, teamwork, turn-taking, etc.
I have a whole Etsy shop with social-emotional games and activities like emotions flashcards, emotions check-in chart, and emotions playdough mats to name a few! I even offer bilingual (Spanish & English) versions of many of the products. Click the image below to visit my shop!


5. Don't forget about gratitude and mindfulness:
Incorporating mindfulness and gratitude practices into your daily routine can help improve overall health, boost self-esteem, encourage resilience, help to manage emotions, and even reduce stress. I recently wrote about yoga and mindfulness practices here. I've also written about simple ways to teach your child about gratitude. Make sure to read those posts for a more in-depth look into both.
Additionally, I have these two products available on Amazon that can help you and your little one explore these practices together at home. Click the images below to learn more:
In conclusion, helping our kids develop their social-emotional skills early on will benefit them throughout their lives.
Now talk to me! Are you making SEL a priority for your little one? Share your thoughts, comments, and suggestions below.
SAVE TO PINTEREST