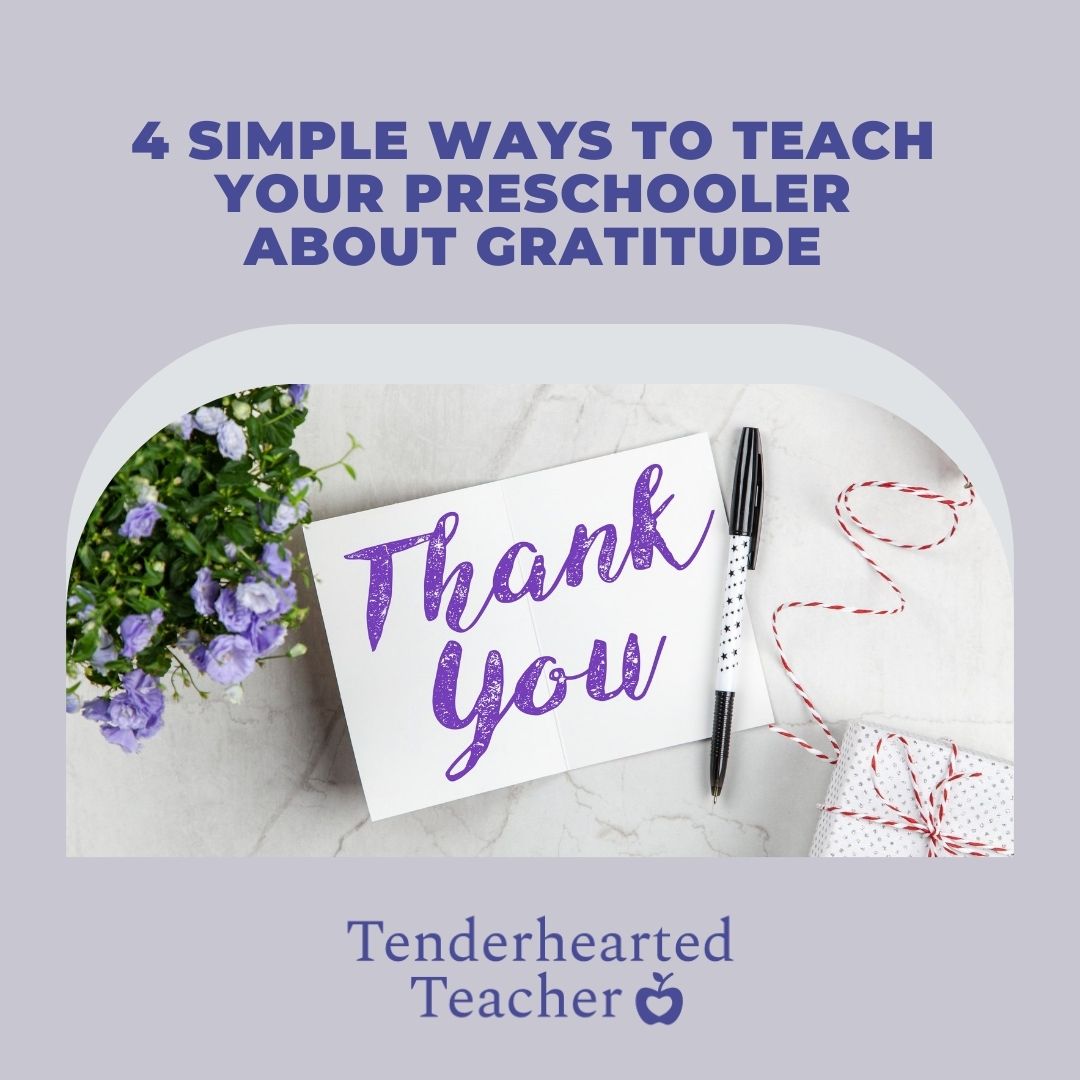 This is the time of year when we hear the words 'grateful' and 'thankful' thrown around quite a bit. But, what does that all mean in early childhood and how do you teach your preschooler about gratitude?
While gratitude isn't a time-specific concept parents and caregivers may want to use their family's holiday celebrations to introduce their children to thankfulness and appreciation.
So What Does Gratitude Mean to a Preschooler?
At a very basic level gratitude is the act of being thankful by showing appreciation. The holidays are a good time to begin discussing this topic because young children will be having some of their first experiences with giving and receiving gifts. Therefore, adults can use these opportunities to discuss acts of kindness and the feelings and emotions that come along with these acts. For instance, children will begin to understand what it feels like to accept a gift and appreciate what has been given to them. They will also learn how it feels to give a gift to someone else.
Gratitude in my Preschool Classroom
I spend the weeks leading up to the holiday break teaching my little ones about gratitude and appreciation. Preschoolers love music and I find that songs can do wonders to let children learn about a new idea or concept. There's a a wonderful song, "Thankful," by The Juicebox Jukebox. It's a simple and catchy tune that focuses on various things in life that we all share and should be thankful for, i.e. family, friends, food, shelter, air, etc.
We also do a community service project as a class. We discuss various organizations that exist to help people, animals, and the environment. Then we take a class vote to decide which organization we would like to do a donation drive for. One year, we learned about the local animal shelter. We contacted the shelter and asked them what they needed in order to keep the animals safe and healthy. They told us they needed items like blankets, dog and cat food, toys, and leashes, etc. We collected items over the course of a few weeks and then made thank you cards for the shelter workers and volunteers.
Ways to Teach Your Preschooler About Gratitude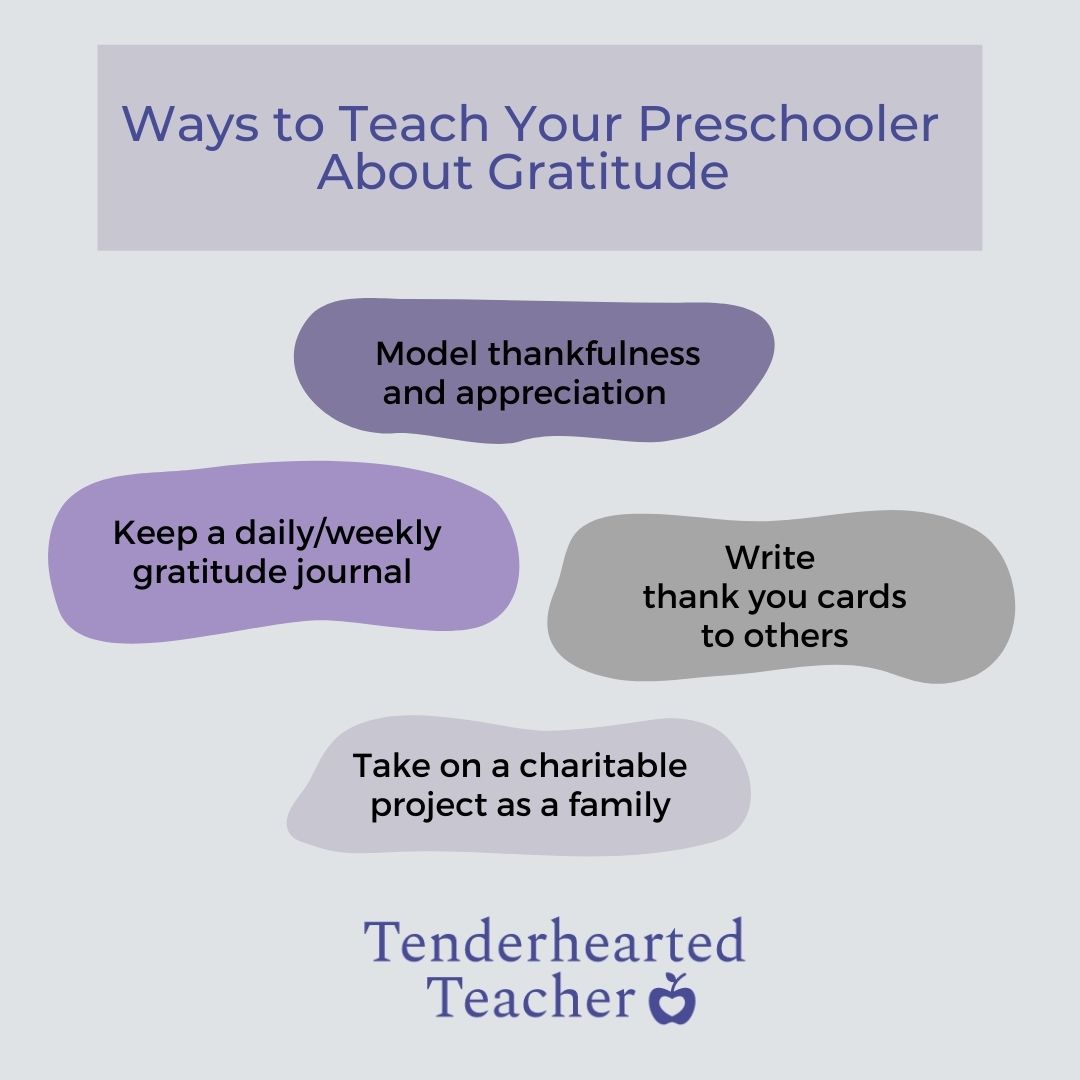 So what about parents and caregivers? What can they do to teach gratitude at home? Here are a few simple tips:
Model Thankfulness and Appreciation
One of the most effective ways to teach a little one, about any topic really, is through modeling. Gratitude is no different. Adults can teach their children to be grateful by being grateful adults. They can encourage their children to be grateful through real-world connections. More specifically, they can talk to their children about the things in their own life that they are thankful for. They can also discuss the importance of everyday things/processes that may be taken for granted, i.e. where our food comes from and how it makes it to our dinner table.
Keep a Gratitude Journal
A simple and effective way to model gratitude is with a daily/weekly journal that they write together as a family. Even preschool children who haven't learned to write yet can draw pictures of the things they are thankful for. In fact, I've designed a gratitude journal specifically for young children. You can learn more about it by clicking the image below or visiting my shop page.
Write Thank You Cards
They can also write thank you cards to other people such as siblings, grandparents, or community members to show their appreciation.
Take on Charitable Projects
Finally, a family can take on their own charitable project together. As I mentioned earlier, I do this with my students. But, families can do this too. They can research and discuss organizations in their local community in need and come up with a plan together to help. For example, they can donate their unwanted toys or clothing to charity or canned goods to a food bank. Or perhaps they can participate in a 5k for a medical foundation. It should be noted that a charitable project doesn't always have to involve goods or monetary donations. Oftentimes organizations need volunteers to help set up and run charity events. So, there are endless possibilities for families to become involved in helping others.
Benefits of Being Grateful
Before, I delve into the overall benefits of gratitude I want to get a bit personal about my own experiences. Living with a grateful mindset has helped me overcome the most difficult times in my life (like grieving the loss of loved ones or going through a divorce in my 20s.) It's also helped me to appreciate all of the wonderful times too (such as earning my Master's degree, meeting my now-husband, becoming a mom, to name a few.) So, I'm a firm believer in the positive impact of gratitude.
With that said, teaching a young child about gratitude can set them up to continue the practice in adulthood regardless of their circumstances at any given moment. Not to mention it improves their overall well-being because they have a better awareness and understanding of their own feelings and emotions. It can also help them to become more empathetic individuals. This, in turn, can improve their prosocial behaviors and relationships with others.
According to 700 Children's® – A Blog by Pediatric Experts, being grateful can have several mental health benefits. For example, they state that that expressing gratitude can improve your mood, make you more optimistic, improve social bonds and improve physical health. Psychology Today also notes that, "People who are grateful feel less pain, less stress, suffer insomnia less, have stronger immune systems, experience healthier relationships, and do better academically and professionally."
We should not overlook the benefits of gratitude because it is an important facet of social-emotional learning (SEL) and development that can promote positive outcomes in a person's life. To read further about why SEL matters, click here.
Now talk to me! Is gratitude something you've tried to instill in your child? If so, share the ways you teach your preschooler about gratitude in the comments below.
---
SAVE TO PINTEREST