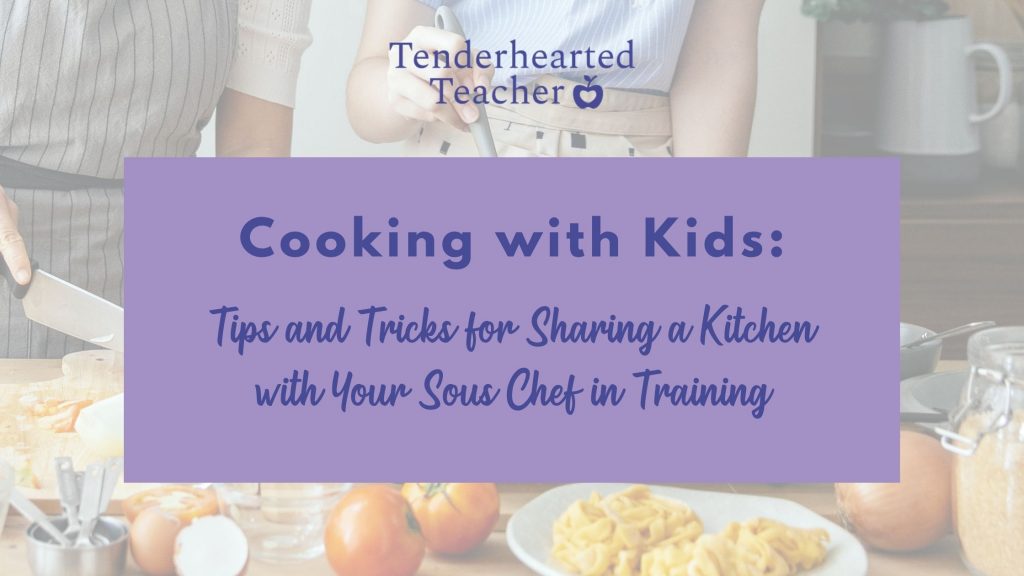 Please note:  This post contains affiliate links. As an Amazon Associate, I earn from qualifying purchases. Therefore, if you buy something through these links I will receive a small commission at no extra cost to you. Thank you for your support.
"Preschoolers & cooking?" Those might be two words you don't think go together. However, early childhood is a great time to teach your little one basic kitchen skills and self-responsibility. In this blog post, I share the overall benefits as well as tips and tricks for working with your sous chef in the making! Plus, I've shared a free printable set with food and cooking-related kids' activities. (Scroll down to grab your download!)
Why Let Your Kiddos Help You in the Kitchen?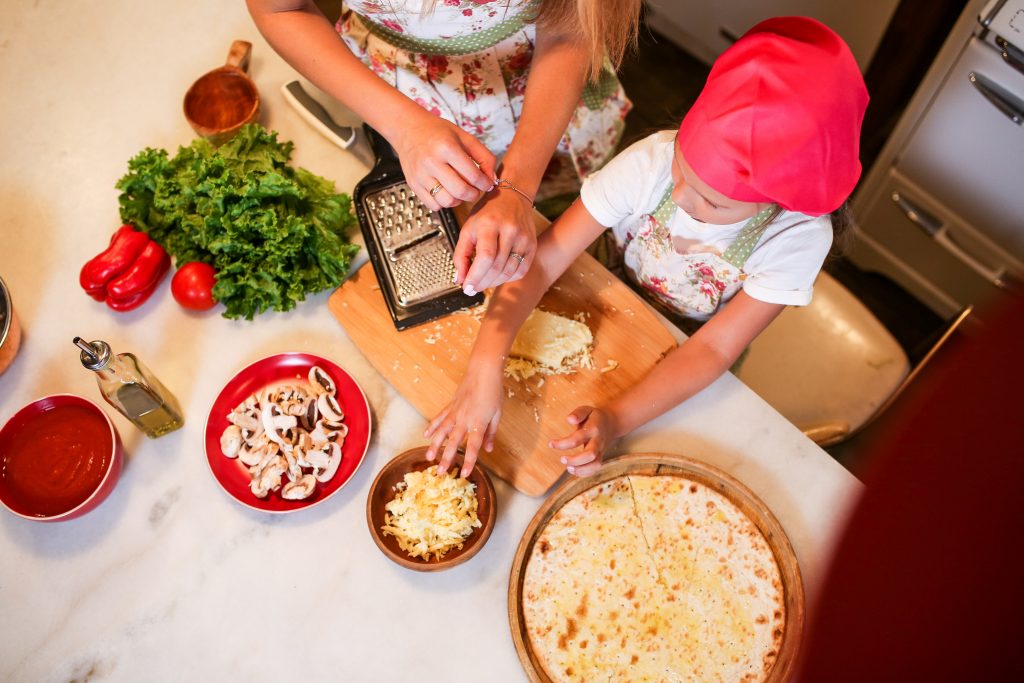 According to North Dakota State University, "Cooking builds self-esteem. Children develop confidence, responsibility and independence when they can help you prepare a snack or meal. When they get more practice, they will be able to prepare more foods on their own."
Therefore, there are many benefits to having your child help out in the kitchen–aside from making memories and family bonding time! Not only do children learn about food and nutrition, but they are gaining several academic and life skills too. Here are some examples of what preschoolers pick up while cooking.
Fine Motor
Mixing, scooping, spreading, and cutting foods are great forms of fine motor development. This type of development means strengthening the small muscles in a child's hands. Refining these muscles helps children with life skills and gives them more independence with tasks such as feeding, dressing, toileting, writing, etc.
Math
Cooking and baking are chock full of opportunities to learn about math concepts. For example, a child can learn about counting, measurement, quantities, volume, and sequencing all while preparing a single meal!
Literacy
Activities in the kitchen can also lead to learning about literacy concepts. For instance, you and your child can read simple recipes, food labels, and packaging. Your child can even help to write out shopping or ingredient lists. Additionally, cooking provides opportunities to pick up new vocabulary.
Science
Recently, I wrote a blog post about the Scientific Method and introducing STEM learning at home. But, did you know that cooking is an excellent way to let your child learn about science too? Exploration with food teaches science concepts such as temperature, hot vs. cold, and changes in matter, for example.
---
When to Start Cooking with Kids?
While every child is different, kids generally start to show interest in what's going on in the kitchen at around 18 months. They might not be able to help much at that stage. However, they can become involved as long as you're open to a little bit of exploration (and some occasional mess!)
For example, our 2-year-old has been watching us prepare meals since he was an infant. (As an aside… he used to sit in his highchair and watch my husband and I film our short-lived cooking stream on Twitch/YouTube called, Our Dinner is Dunn.) Now, he's old enough to help with simple tasks like scooping, mixing, measuring, and even cutting food. And yes, he can cut food! He uses a child-friendly knife. I'll share the link to it along with other great kitchen gear later on in this post. For now, here is a video of him helping out at mealtime.
---
How to Begin? Tips for Cooking with Preschoolers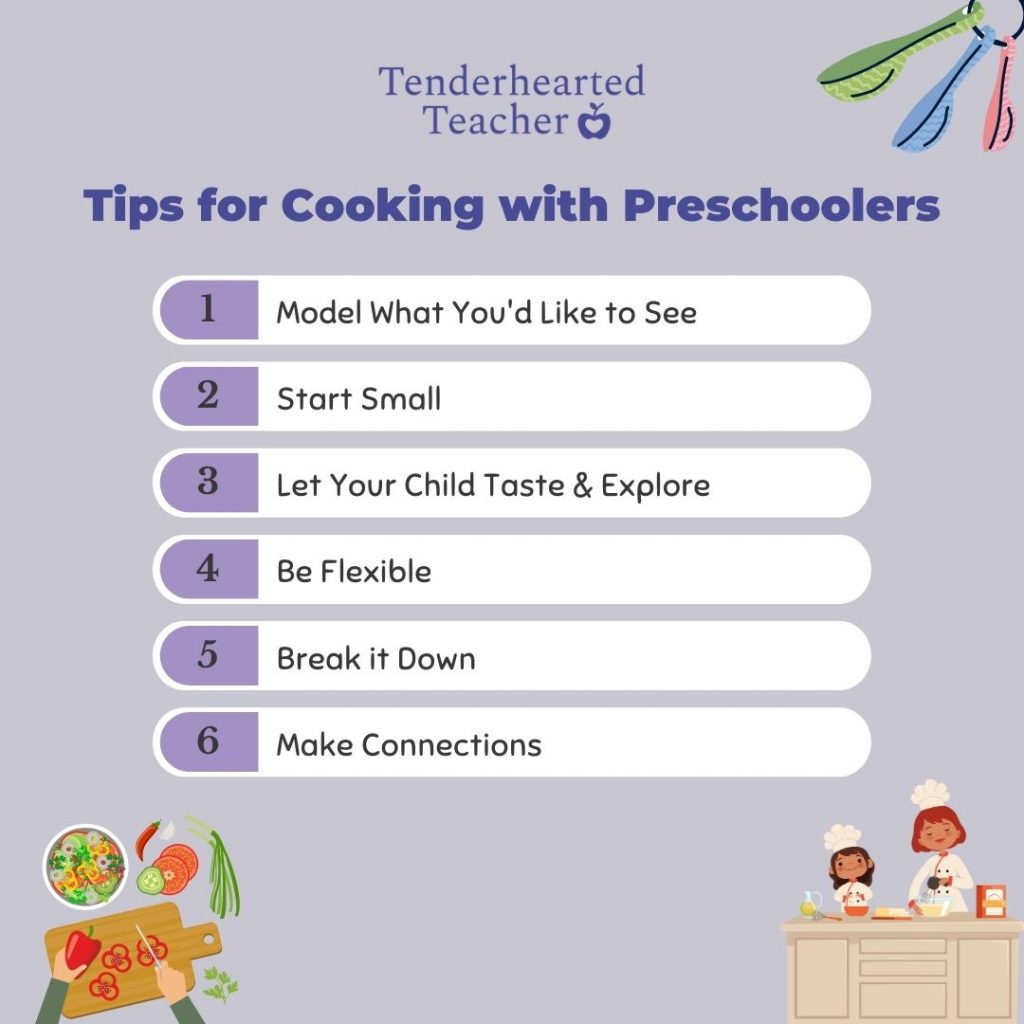 1. Model What You'd Like to See
I've said it before. And I will say it again. Modeling is one of the most effective ways to teach young children new skills. Therefore, you want to begin your child's cooking journey, when they are still an infant, by letting them watch you in the kitchen. As they observe what you're doing, they are learning the ins and outs of food preparation as well as how to safely handle kitchen tools.
2. Start Small
Something else you want to keep in mind is to start slowly and scaffold the learning. First, let them get familiar with the kitchen by playing with children's toys alongside you. Then, you can move on to the real thing. For example, we started by setting up our toddler nearby in his pretend kitchen while we cooked. Eventually, he started cooking with us once he began to show interest. These are some of our favorite toy products we use at home.
3. Let Your Child Taste and Explore
Think back to when you first introduced your toddler to solid foods. I'm sure your pediatrician told you that it's normal for them to touch it, taste it, spit it out, and make a mess. This is because kids are getting to know their food using all of their senses. The same still goes for preschoolers. So, it's important to let me taste different ingredients as they help you cook. (Side note: research actually shows that kids are more likely to try foods they've helped to prepare!)
4. Be Flexible
No matter what activity you do with your preschooler, you can always expect some mess. Cooking is no different. Therefore, it's all about having a flexible mindset. Go into this process knowing what's to come, don't expect perfection, and prepare all of your ingredients (and cleaning supplies) ahead of time. This will make things more manageable and enjoyable for everyone.
5. Break it Down
Once your child feels comfortable you can let them help you with meal preparation. Please note that your child doesn't have to cook every single meal or even an entire meal with you. You can choose what works for your family in terms of days, time, and specifics (i.e. breaking down the steps and having them help you with certain things.) For example, they can can make a salad while you sauté onions or they can season veggies while you cut up chicken. As your child gets older and more confident they can take on more advanced tasks.
6. Make Connections
Finally, it's always a good idea to tie in real-world experiences with what you read about in books. Here are a few age-appropriate, food-related books you can read with your family. Afterward, you can make meals together based on these books.
---
What Can Preschoolers Do in the Kitchen at this Age?
Non-cooking Tasks
Put away utensils
Wipe down the countertops
Open food packages
Rinse fruits and vegetables
Set the table
Cooking Tasks
Measure and pour ingredients
Stir or mix foods
Scoop items into bakeware or dishes
Cut fruits and vegetables
Spread butter or condiments on bread
Make simple meals like sandwiches and salads
---
Kid-Friendly Kitchen Products for Preschoolers Cooking
With all of that said, preschoolers can use items you already have in your kitchen as they help out. But, having kid-friendly items can make the process easier for their tiny hands. Here are some products suitable for children that you might want to check out.
---
Now talk to me! Does your preschooler cook with you? If so, what do you like to make together? Share your comments below.
More Posts About Preschooler Development
SAVE TO PINTEREST