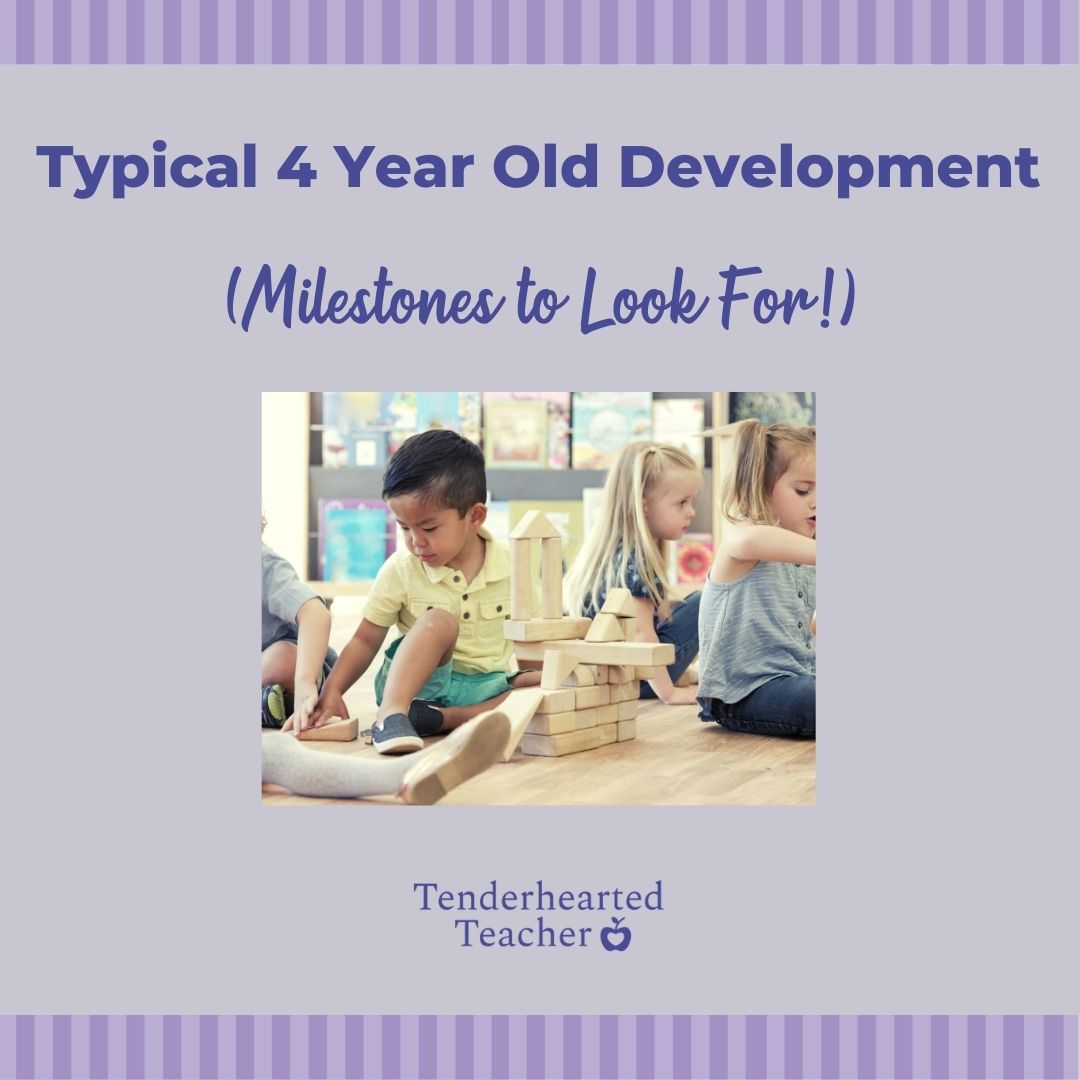 Please note: This post contains affiliate links. As an Amazon Associate I earn from qualifying purchases. Therefore, if you buy something through these links I will receive a small commission at no extra cost to you. Thank you for your support.
As a parent/caregiver you'll often be faced with seemingly harmless questions from others about your child's development. Let's face it this starts almost immediately after your child's birth and continues as they grow up. For example, you might be asked "is your baby walking…talking…fill in the blank…yet?" But, these types of questions might cause you to worry that your child isn't making adequate progress. Therefore, let me just start with a key disclaimer (one that I share with my students' families.) It may be difficult, but try not to compare your child's development to anyone else's. It's critical to remember that each child will develop at their own pace. Plus it is more important that your child is making consistent progress rather than reaching specific milestones by a certain point in time. In today's post, I'll be sharing examples of typical 4 year old development and ways to encourage growth.
What Can Parents do To Encourage Typical 4 Year Old Development?
One of the simplest and most effective ways to encourage several areas of development at once is through play. Children attain new knowledge and skills when they are given ample opportunity to engage in hands-on learning and exploration. According to the National Association of the Education of Young Children (NAEYC):
"Play (e.g., self-directed, guided, solitary, parallel, social, cooperative, onlooker, object, fantasy, physical, constructive, and games with rules) is the central teaching practice that facilitates young children's development and learning. Play develops young children's symbolic and imaginative thinking, peer relationships, language (English and/or additional languages), physical development, and problem-solving skills."

NAEYC
Additionally the organization states that, "All young children need daily, sustained opportunities for play, both indoors and outdoors. Play helps children develop large-motor and fine-motor physical competence, explore and make sense of their world, interact with others, express and control their emotions, develop symbolic and problem-solving abilities, and practice emerging skills."
If you'd like to learn more about the importance of play in early childhood please read my post: The Importance of Play in Preschool: Learning Through Fun & Games.
What Does Typical 4 Year Old Development Look Like?
When I assess a student's progress in my own preschool classroom I will consider a child's development in four major areas: cognitive, language/communication, social-emotional, and physical/motor. I've shared some examples of typical 4 year old milestones in each of these areas.
I've also shared some of my favorite items and toys that I use in my home or classroom to teach important developmental skills through play. (If I couldn't find exact matches, I've recommended similar products.)
I should also note that many early childhood toys and games can enhance the development of many skills at the same time. For example, a math game can encourage cognitive and language skills simultaneously. But, for the purpose of this post I've separated them by category.
Cognitive:
According to the Early Childhood Knowledge & Learning Center (ECKLC), "Cognition, or cognitive development, includes reasoning, memory, problem-solving, and thinking skills. Young children use these abilities to make sense of and organize their world." These are some of the cognitive skills I generally see in 4 year old students.
Count 10 or more objects
Name basic colors as well as 2D and 3D shapes
Understand and use positional words like behind, in between, over, and under
Begin to name letters and their corresponding sounds
Follow two-to-three step directions
Attend to tasks for longer periods of time
Language/Communication:
This area encompasses a child's ability to effectively express themselves in terms of their needs and wants as well as how they engage with others. A 4 year old should be able to:
Respond to yes or no questions
Answer questions such as who, what, when, where, and why
Request help from others
Seek answers to questions
Use more vocabulary and detail to describe people, places, and things
Repeat songs or rhymes
Language and communication ties directly into literacy learning. If you'd like more information about how to encourage your child's literacy development please download my Free Literacy Guide here.
Barefoot Books is one of my favorite children's book publishers. Their books are visually appealing, feature diverse stories and characters, and a great for language development. These are two of my students' favorites every year. They both have singalong music videos to accompany them as well.
Social-Emotional:
At a very basic level social-emotional learning (SEL) refers to how we develop self-awareness as well as an understanding of others. For example, SEL can include how we learn to appropriately interact with other people, establish and maintain healthy relationships, and identify and manage our emotions (as well as understand the emotions of others.) Here are some of the social-emotional skills that a 4 year old is generally able to exhibit:
Express individuality in their choices (i.e., choose what to play with and how, what book to read, etc.)
Actively interact with both peers and adults
Engage in creative and pretend play
Begin to understand how to share, take turns, and play cooperatively with others
Start to recognize emotions like happy, sad, frustrated, etc. as well as attempt to self-regulate when confronted with these feelings
Show care and concern for others
I personally think that SEL is equally as important as academic learning. Find out more about why I think caregivers and educators should focus on this type of development by clicking here.
Physical/Motor:
Physical development includes both fine-motor skills (that use the small muscles in the hands and wrists) and gross-motor skills (those that use large muscles like arms, legs, and/or torso.) Generally, a 4 year old will be able to:
Gross-Motor
Walk forward and backwards easily
Go up and down stairs with little assistance
Balance on one foot for at least 5 seconds
Pedal a tricycle
Hop, gallop, or jump
Attempt to throw and catch a ball
Fine-motor
Here Are Some More of My Posts About Encouraging Typical 4 Year Old Development Through Play:
When Should a Caregiver be Concerned?
To close–I always tell caregivers that they know their child best. Therefore, if they see that their child is making little to no progress in any of the aforementioned areas over time –or if they are beginning to see a decline in skills they were once able to do–it would be wise to speak to their pediatrician. I should note that if caregivers have concerns about their child's overall development they can also reach out to their local public school district. The school can provide information about a developmental screening or evaluation for special services, such as physical, occupational, and/or speech therapy.
Now talk to me! Do you feel there is pressure from others to have your child reach certain milestones? Please share your comments or questions below.
SAVE TO PINTEREST