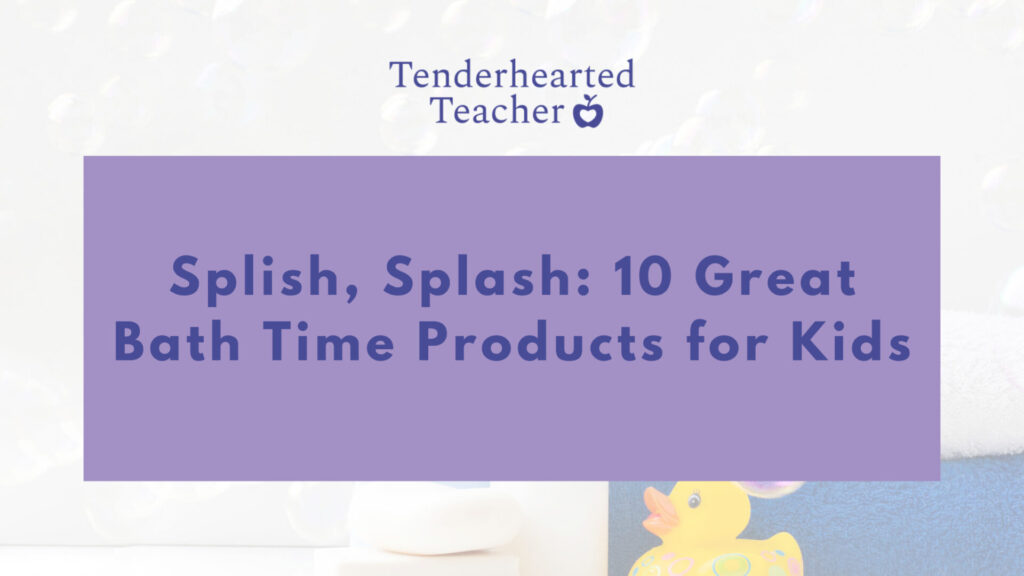 If your toddler or preschooler is anything like mine, they absolutely love bath time! It's part of our daily nighttime routine. But I'll be the first to admit we often play in the tub at other points during the day too–especially when we're looking for a calming sensory activity. (Think rainy days cooped up inside!) Today, I wanted to share 10 of my favorite bath time products for kids that can make the entire family "bubble up" with happy memories.
Please note: This post may contain affiliate links. As an Amazon Associate, I earn from qualifying purchases. Therefore, if you buy something through these links I will receive a small commission at no extra cost to you. Thank you for your support.
Bath time Benefits
Splashing around the tub is a surefire way to get our kiddos clean–particularly after a day of messy activities. But did you know that bath time can help little ones enhance their language, motor, and cognitive development while engaging in meaningful play and exploration? For example:
Children's vocabulary and language development are enhanced through songs, games, and back-and-forth conversations with their caregivers.
Fine motor skills are refined as children handle and manipulate various toys and objects in the tub, i.e. containers and spray bottles.
Children can be introduced to early math concepts such as number ID, counting, size, shape, and volume as well as science concepts like body part identification and how objects sink and float.
Water play allows for sensory and tactile exploration. For example, children can experience the different smells of their soaps and lotions, touch various textures like soft towels and washcloths, and feel temperature differences like hot vs. cold.
Bath time can also promote independence and self-care skills as children learn to dress and undress and wash and dry themselves.
According to the Nurture Science Program at Columbia University, bath time is also a perfect opportunity for parents and children to bond and practice the co-regulation of their nervous systems. "Baths are a sensory circus—little feet kicking the water, bubbles everywhere, toys bobbing on the surface—so it's an especially fruitful way to engage in co-regulation." Furthermore, they state, "This physiological and emotional connection is not only wonderfully calming, it activates internal systems that boost immunity, ease gut inflammation, improve brain function, increase stress resilience, and protect heart health."
Favorite Bath Time Products for Kids
With that said, here are 10 of my favorite products that we use personally. These make for an enjoyable bath time experience for parents and kiddos alike! Click on the photos for more product information. Please note, if I could not find the exact matches to what I use I've shared similar items with positive reviews.
1. Tub Topper ® Splash Guard Toy Shelf
We have always loved bath time in our house. But my husband and I dreaded having to clean up wet floors every night. Fortunately, we found the perfect solution. We purchased this exact splash guard toy shelf about a month ago (after spotting it on Instagram) and it was truly one of the best purchases ever! A total game-changer! Not only does it keep our bathroom floor clean and dry, but it acts as a storage shelf and play area too. It even fits on our retro 1960s bathtub! We also love that this purchase supports a small business and that this product is made in the US.
2. Bubble bath
Bath time just wouldn't be bath time without bubbles! There are lots of bubble products on the market, but since our little one has sensitive skin we use Mr. Bubble Extra Gentle. It's hypoallergenic, tear-free, and fragrance-free, and it doesn't cause skin irritation.
3. Containers
Some of the simplest, yet most entertaining items for water play include things you already have around the house, such as cups, bowls, sponges, spray bottles, strainers, and containers with lids. Children can strengthen the small muscles in their hands as they practice pouring, transferring, and squeezing. Additionally, they can learn and use vocabulary words like "pour," "drip," "empty," "full," "more," "less," etc.
4. Foam Letters and Numbers
Children can also practice letter and number identification with these foam toys that stick to the tub and walls when wet. The items pictured above are similar to the ones we use at home, but these have the added bonus of mesh storage bags.
5. Bath Books
Books designed to be used in the tub are a great way to incorporate literacy learning into your bath time routine. You can find books to practice everything from letters and numbers to shapes and colors. This book by Sandra Boynton, which features farm animals, is the waterproof counterpart to the popular board book Barnyard Dance. It even comes with a washcloth!
6. Glow sticks
Turn the lights down low and toss a few glow sticks in the tub. These bring a new level of excitement and a vibrant twist to a familiar activity. You'd be surprised at how much light these give off too. You can throw on some dance music and make it a real party! We like to do this on Friday nights to help us decompress after a long week of work and school.
7. Whale Waterfall rinser
This waterfall rinser is specifically designed to keep water out of your child's eyes and ears. Pro-tip: have your child tilt their head back and look up at the ceiling when you rinse to add an extra layer of protection.
8. Wet Dry Brush
This is a child-sized detangling brush that can be used on wet or dry hair. It's designed to gently loosen knots without pulling or snagging. Its ultra-soft bristles also help to brush with less force and less damage which means brushing your child's hair can be tear-free!
9. Hooded Towels
Not only are these towels cozy and warm, but they are adorable too! Nowadays you can find towels to match just about any of your child's interests. For example, Amazon has towels with various animals, characters, and prints.
10. Nonslip bathmat
There are a lot of safety factors to consider during bath time, i.e. water temperature, drowning risks, etc. But, one of the simplest actions to take is adding a bathmat, at the bottom of the tub, so your child doesn't slip on slick surfaces. This nonslip bathmat can help prevent accidents and give you peace of mind. See below for more safety tips.
Bath Time Safety Tips
We know that bath time can be both a fun and relaxing experience for children. But, there are several things to keep in mind when allowing your child to play in the tub. Here are some important safety tips to remember. These have been adapted from the Children's Hospital of Pittsburgh's home safety handbook.
Never leave your child unattended in the tub or near any water for that matter. A child can drown in less than 1 inch of water.
Always test the temperature of the bath water with your elbow before placing your child into the tub. It should feel pleasantly warm.
Use a bath mat inside the tub and a nonslip rug outside of the tub to help prevent slips or falls.
Keep the bathtub area free of electrical appliances that could fall into the tub.
Use safety devices such as spout covers and toilet/cabinet locks to keep children out of harm's way in the bathroom.
Preschool Songs About Bath Time
Conclusion
Bath time has many benefits. Not only is it a great way for kids to relax and wind down before bed, but it's also a nice bonding experience for parents and children as they can spend time together playing, talking, and exploring the water. I hope these tips help you and your family make the most out of bath time.
Now talk to me! What are your favorite bath time products for kids? Please share them in the comments below.
SAVE TO PINTEREST