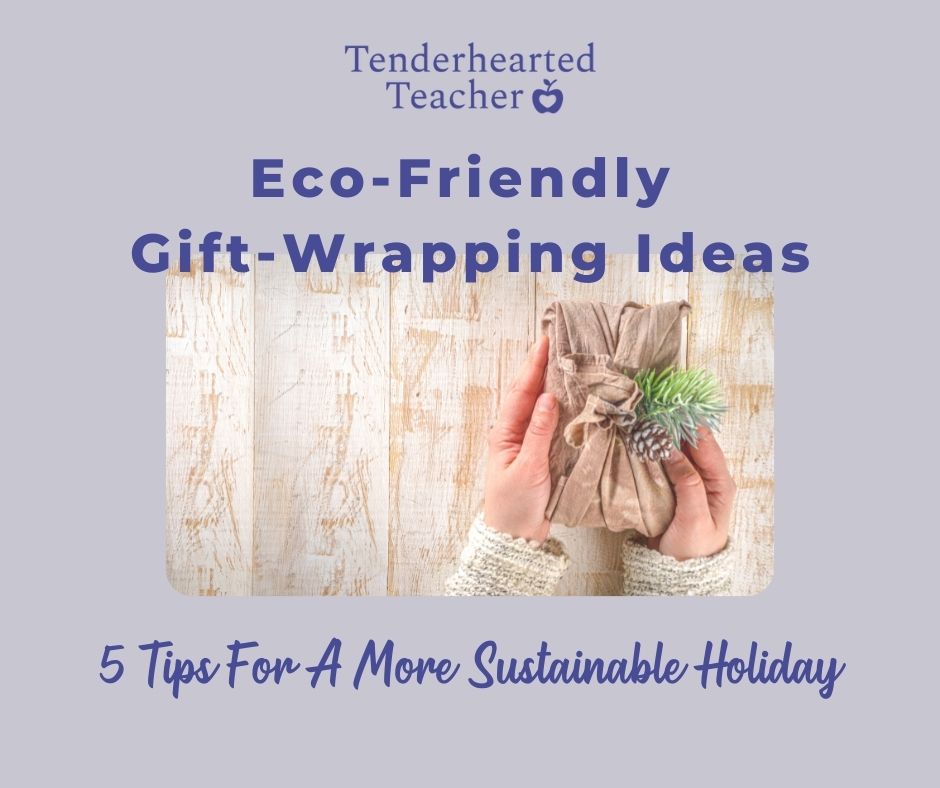 Please note: This post contains affiliate links. As an Amazon Associate I earn from qualifying purchases. Therefore, if you buy something through these links I will receive a small commission at no extra cost to you. Thank you for your support. 
That's a Wrap on Traditional Gift-Wrapping: Time to Ditch Wrapping Paper for Your Child's Holiday Presents This Year
I vividly remember opening my gifts on Christmas morning as a child. New toys and clothing were strewn about. My brothers and I would express our excitement by jumping up and down (sometimes on the couch!) We'd happily show off our new goodies to each other, our parents, and even to our dogs. But, do you know what else I remember about those special moments? A large garbage bag filled to the brim with wrapping paper. According to Earth911, "approximately 4.6 million lbs. of wrapping paper is produced in the U.S. each year, and that about 2.3 million pounds ends its life in landfills." So, with the holidays rapidly approaching I wanted to share 5 eco-friendly alternatives to traditional gift-wrapping.
These are a few simple ways to reduce and/or prevent waste and encourage good habits in your little one. It's never too early to start teaching your child to make better choices for the environment. (Hint: Number 5 is what I'll be doing this year! We'll be foregoing gift-wrapping altogether and we'll be having fun doing it!)
Here Are 5 Eco-Friendly Gift-Wrapping Alternatives:
1. Bags
You have a few options when it comes to wrapping gifts in bags:
Make use of the bags you've received from others. I love to save all of the gift bags I get from other people and reuse them when it's time to give someone else a gift. In fact, my family and I make it a point to recirculate the same gift bags every year!
Wrap your gifts in reusable shopping bags–you can find these just about anywhere now since there's been a big shift away from plastic shopping bags in stores. If your local supermarket provides brown paper bags you can cut those up to create your own gift-wrap too.
Use reusable drawstring or cinch bags for an eco-friendly gift-wrapping alternative. For example, a few years ago I and wrapped my young cousins' Christmas gifts in cinch gym bags like these. (Plus you can find these in all sorts of prints and colors!)
2. Cardboard boxes
We live in the time of endless home deliveries. So instead of breaking those boxes down and throwing them directly into the recycling bin, reuse them! And why not take it a step further? Have your little one decorate gift boxes for others using paint and/or stickers prior to the holidays. This is a great activity to develop fine-motor skills and creativity. (FYI– I find the best type of paint for this type of project is tempura or acrylic.)
3. Newspaper
We repurpose newspaper in a few ways in our house. For example, I use it to cover my son's toddler table when he's doing an art project. And my husband likes to use it as a paper towel alternative when he cleans our windows and mirrors. (It's great for avoiding streaks!) But, another way to use it is as a wrapping paper substitute.
4. Fabric
In the past I've used pieces of fabric to wrap gifts. But, I only recently learned that this practice is called "Furoshiki" in Japan. Here's a little bit of information about this tradition from Marie Kondo. Not only do gifts wrapped in fabric look incredibly neat and beautiful, but they also save paper from ending up in a landfill.
5. No-Wrap Holiday Gift Hunt
I've saved my favorite recommendation for last! This year why don't you consider not wrapping your child's gifts at all!? Instead hide their gifts around your home to create a memorable and fun-filled experience. This year, my family will be having a Holiday Gift Hunt!
I often have my preschool students go on hunts (for colors, letters, numbers, objects, etc.) in our classroom, around the school, or on the playground. Scavenger hunts are entertaining and educational too. In fact, Scholastic states, "Not only can scavenger hunts be done just about anywhere, they also boost observation skills and help children develop early learning skills in a fun, relaxed, and natural way."
I'll be completely honest with you here…my younger brother suggested this idea recently. But, it couldn't have come at a better time. A few months ago our entire basement was flooded with more than 4 ft of water because we were victims of a hurricane. The damage was devastating and we lost practically everything down there (washer/dryer, water heater, furniture, clothing, picture albums, holiday decorations, etc.) We even lost several containers of gift bags, boxes, and wrapping paper that I reuse every year for various occasions. This incident was incredibly eye-opening. It made me realize how much more important experiences are in life rather than material objects. All of the loss we faced was the catalyst for this gift hunt idea.
How Does This Gift Hunt Work?
Now you might be thinking, "I celebrate Christmas and I've taught my child that Santa leaves wrapped presents under the tree. How can I make this work?"
Don't you worry because you can easily incorporate Santa into this new tradition. I plan to hide my child's gifts all around our home on Christmas Eve after he's gone to sleep. Then in the morning, we'll find a letter from Santa underneath the tree. This letter will list clues to help him find where his gifts have been hidden. All you have to do is fill in the blanks with clues. For example, you might say "this gift is hidden where you take a bath."
If you and your family celebrate a holiday other than Christmas, I've got you covered as well. You can still have a gift hunt too. I've created downloadable gift hunt letters to share with all of my readers. There is a Christmas version which is signed by Santa and there is also a Special Gift Hunt version which can be used for other religious holidays or any gift-giving celebrations.
Please consider this unforgettable alternative to classic gift-wrapping this year. My hope is that the Holiday Gift Hunt trend catches on and it becomes a new family tradition that produces more memories and less waste.
Here are some other holiday-related posts you may enjoy:
Now talk to me! Which eco-friendly gift-wrapping alternative will you choose this year?
This post was featured by Twinkl in their Thrifty Christmas Guide'.
SAVE THIS TO PINTEREST