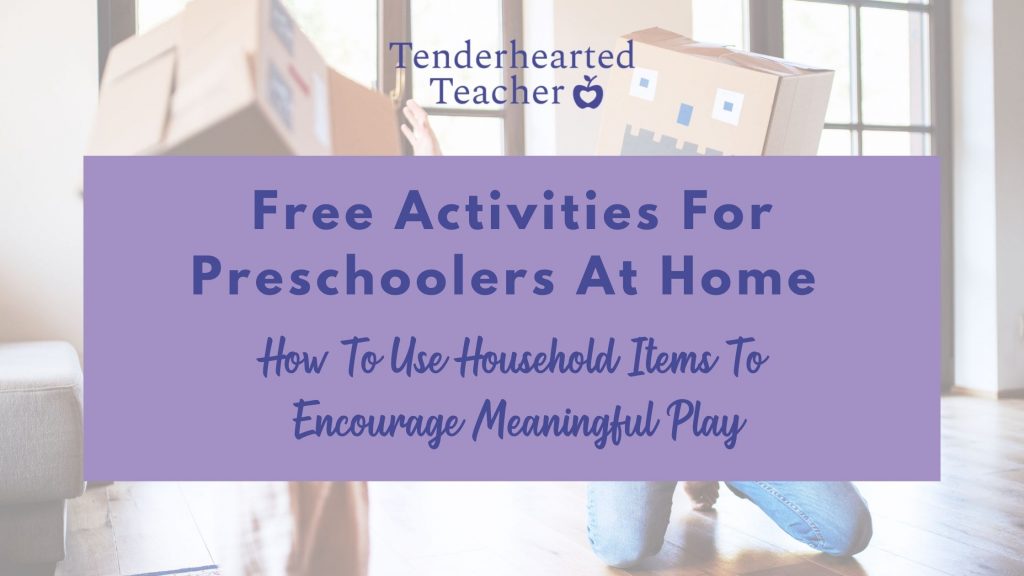 Please note: This post may contain affiliate links. As an Amazon Associate I earn from qualifying purchases. Therefore, if you buy something through these links I will receive a small commission at no extra cost to you. Thank you for your support.
Did someone say free at-home activities for preschoolers? Yes! There are tons of meaningful play activities you can do at home with your preschooler for no cost at all. But, just because they are free doesn't mean they don't have value! Toys don't need to be shiny and expensive to make an impact on your child's development. In fact, you've probably thrown away household items that can be used for play without even realizing their potential. On the flip side, I'm sure I'm not the only one who has brought home a new toy only to have my child want to play with the box it came in. I mean what little one doesn't love to play with an empty box?
How to Use Household Items to Encourage Meaningful Play
It's tempting to buy our children the newest toys. But, often the best play experiences happen with open-ended materials. According to the National Association for the Education of Young Children (NAEYC), "Open-ended materials have an infinite number of uses, limited only by your child's imagination. By giving your child recycled, open-ended materials to play with, not only are you fostering her creativity and problem-solving skills, but you are saving money, as well."
So What Items Can You Use?
Empty boxes are a great way to encourage imagination and creativity because they are open-ended. Your child can decide what they want to do with them. Will they create a rocket ship? A boat? A castle? This one box can represent so many things and it can encourage skills like exploration, experimentation and problem-solving. I actually leave out multiple boxes (of various sizes) in my playroom at home and they are a total hit. Believe it or not, but one of my son's first words was 'box' because we were getting so many deliveries during the pandemic! Some of his favorite activities with boxes are to create homes for his stuffed animals, stacking them up like blocks, and using them for his art projects like writing with chalk and applying stickers.
I love this preschool-friendly book, "Not a Box" by Antoinette Portis. Its simple text and imagery are a great jumping off point for imaginative play. Read this together with your child before coming up with new ways to use boxes!
Another fun free option for at-home play is empty containers. We like to use yogurt tubs, juice bottles, plastic seasoning jars, etc. All you have to do is clean them out well and add them to your play rotation. You can put them in your play kitchen or place them together in a basket or drawer.
Empty containers can provide endless opportunities for pretend play. I use these with my little one at home and I have a basket in my classroom as well. Containers encourage open-ended play and can be used for matching, sorting, stacking/building, musical instruments, pretend play and even fine-motor development.
Here Are A Few Free Activities, Using Containers, That Help Develop Your Preschooler's Academic Skills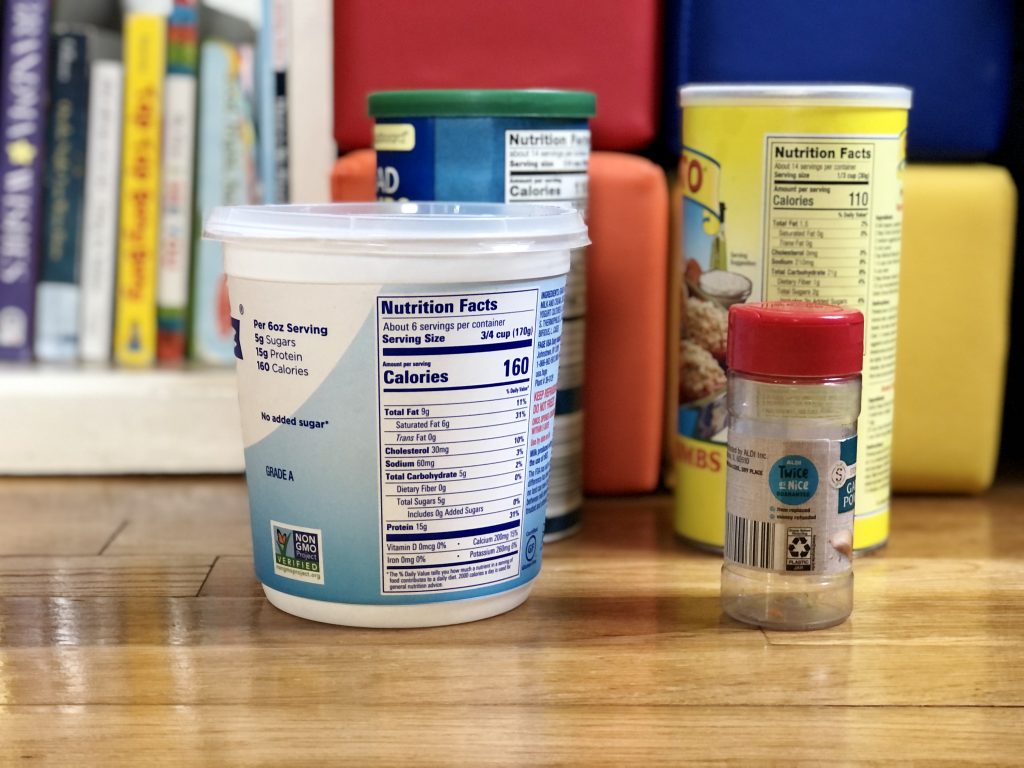 Matching: Separate the lids from the containers and have the child find the matching lids.

Sorting: Categorize containers by size, color, or even use or type, i.e. food groups, liquids vs. solids, etc.

Stacking/Building: Use the containers to stack tall towers or let your little one build independently by testing out different designs and configurations.

Musical instruments: Place the closed containers near each other to create a drum set or put small blocks or toys inside to create shakers/noise makers.

Pretend Play: Use the containers for cooking and kitchen play props. Make sure you model how to use the items appropriately and give your child an opportunity to do the same. For example, if you're using a cheese shaker you might say, "May you please pass me the parmesan cheese? I want to shake it and sprinkle some over my pasta! Would you like to sprinkle some too?"

Fine-motor development: Children can practice removing and replacing different types of lids (pop tops, flaps, twist offs.) Just make sure lids are not too small as to avoid potential choking hazards.
These are just a few examples of easy and free play activities you can do at home with your preschooler that can encourage academic learning. So, please don't throw out those old boxes or food containers just yet and start playing.
Before you go…read more about the importance of play in preschool here. Also, find out how to teach 11 early math skills using your child's toy blocks.
Now talk to me! What are some of your favorite non-toy items that your little one loves to play with? Share your comments or questions below.
This post was featured by Twinkl in their Cost of Living Crisis blog.
SAVE THIS TO PINTEREST